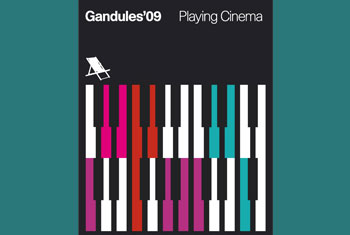 Gandules
Gandules'09
Playing Cinema
Audiovisuals + Festivals
Free
The relation between cinema and music is a rich one if, instead of one medium illustrating the other or being subordinate, it takes inspiration from the other's creative gestures, adapting and interpreting them. Because cinema has a lot to do with music: it can fix the lyrical intimacy of pop songs, the improvised immediacy of jazz, the stylized rigour of the studio recording and the electric energy of rock. These are stories, of music and cinema, that cross over and reinvent themselves. Stories in which the cinema performs, interprets, acts and plays.


The short film IF THE CAMERA BLOWS UP, by Òscar Pérez and produced by Gandules '08, shown at the 62nd Locarno Film Festival
WEEK 1

Tuesday 4 August
Honkytonk Man
Clint Eastwood, 1982, 118', Spanish subtitles
Honkytonk Man is an almost autobiographical film about passion for music, its transmission and its legacy. Red (Eastwood), a country singer with tuberculosis, sets out on a trip with his nephew Whit, played by the director's son. The open road, honky-tonks, twilight, numerous encounters and discoveries provide the musical punctuation to Whit's emotional initiatory journey.
Wednesday 5 August
When it Rains
Charles Burnett, 1995, 13', Original version
Shadows
John Cassavetes, 1959, 87', Catalan subtitles
To the music of Charles Mingus, Cassavetes works with a group of students to film this 16-mm improvisation. Asynchronous sound, a hand-held camera and a close focus on faces and capturing emotions. This film debut turns on the energy and the uncertainty of youth, and the exaltation of first love, offering a portrait of a period of creative ferment. It is a landmark in independent film, showing the potential of the cinema to be made as and with music.
Thursday 6 August
La Tour de Pise [The Tower of Pisa] by Jean-François Coen
Michel Gondry, 1993, 3'24'', Original version
Al anochecer ya murmura el bosque [As night falls, the woods start to murmur]
Eva Randolph, 2009, 5', Original version
A letter that Victor did not send. A short film that dialogues with Tout est pardonné.
Tout est pardonné [All is Forgiven] PREMIERE
Mia Hansen-Løve, 2007, 105', Catalan subtitles
In Vienna, Victor, Annette and their daughter, Pamela, are preparing to leave for Paris. When they arrive, Victor is still unable to work, takes refuge in drink and drugs, and finally leaves home. Some years later, the adolescent Pamela sets out to find her father and get to know him. The film is divided into four parts, four seasons, all filmed with delicacy and sensitivity to faces, childhood and youth, distances and the tensions between bodies.
WEEK 2
Tuesday 11 August
Tulpan PREMIERE
Sergei Dvortsevoy, 2008, 100', Spanish subtitles
After making documentaries that were well received at festivals, Dvortsevoy filmed his first fiction, for which he was awarded the Prix Un Certain Regard at Cannes 2008. After completing his military service, Asa returns to his village in the Steppe. He wants to get married, but Tulpan, his potential fiancée, does not like his ears. This film is part comic fable, part a study of the role of chance.
Wednesday 12 August
Jams Run Free, by Sonic Youth
Claire Denis, 2006, 4', Original version
Chungking Express
Wong Kar-wai, 1994, 103', Spanish subtitles
Four characters and two love stories in fast and furious yet intimate Hong Kong. The apparent narrative complexity merely serves to intensify recognition of emotional states: falling in love, mutually and unrequitedly, meetings and reunions, filmed with a vibrant, virtuoso style, with constant research into movement and speed.
Thursday 13 August
Rêverie
Ana de Pfaff, 2009, 5', Original version
A starry choreography. The images of Maya Deren play, dance and are reinterpreted.
Let's Get Lost
Bruce Weber, 1988, 119', Spanish subtitles
The life of jazz trumpeter and vocalist Chet Baker over a period of 30 years, in a striking portrait of beauty and its destruction. From Oklahoma to California, and from New York to Europe, from playing with Charlie Parker in the 50s to the darkness of the 80s. Bruce Weber, photographer, discovered Chet Baker in 1962 and met up with him again in 1986 when, after a photo shoot, he spent two years filming him. The present of the filming conjures up the past (material recorded at concerts, Italian B movies, interviews) and draws a portrait of an enigmatic figure.
WEEK 3
Tuesday 18 August
Lucky Three
Jem Cohen, 1996, 12', Original version
Down by Law
Jim Jarmusch, 1986, 102', Spanish subtitles
The stylish deadpan comedies of Jarmusch, a member of New York's No Wave in his youth, are the true pop rock of the cinema. The film tells of the meeting of three characters-a DJ (Tom Waits), a pimp (John Lurie) and an Italian tourist (Roberto Benigni)-in three settings-New Orleans, a prison and a Louisiana swamp-with a fabulous soundtrack by Waits and Lurie.
Wednesday 19 August
Dixieland Droopy
Tex Avery, 1954, 8', Spanish version
Rabbit in Your Headlights, by UNKLE
Jonathan Glazer, 1998, 6', Original version
The Devil and Daniel Johnston
Jeff Feuerzeig, 2005, 110', Spanish subtitles
A bi-polar musician and comic-book artist, Daniel Johnston became a folk legend who was much admired by musicians such as Kurt Cobain. He recorded his albums in the basement of his home and wrote hundreds of songs about unrequited love. The film is a fascinating portrait of the film and cassette recordings that Johnston used as his diary.
Thursday 20 August
Goteras en el cielo [Leaks in the Sky]
Alba Ocaso, 2009, 7'
Lisbon, November 2003. Under the roof, a private world is created where the walls are imbued with music.
It's a Bird
Harold L. Mueller, 1930, 14', Catalan subtitles
Project Grizzly PREMIERE
Peter Lynch, 1996, 52', Catalan subtitles
After being attacked by a grizzly bear, Troy Hurtubise decided to build himself some extravagant bear-proof armour, inspired by Robocop. Peter Lynch followed his story, producing a hilarious film that fascinated Tarantino, inspired Herzog's Grizzly Man and was parodied by The Simpsons.
WEEK 4
Tuesday 25 August
On avait tant dansé
Núria Esquerra, 2009, 5', Original version
Some years ago, a group of young people went out into the street to film other young people falling in love and dancing.
Adieu Philippine
Jacques Rozier, 1962, 106', Catalan subtitles
Fifty years ago, the nouvelle vague transformed the pace of the cinema. Adieu Philippine is perhaps his least-known, most luminous masterpiece. Michel meets Liliane and Juliette, aspiring actresses, and goes to Corsica with them on holiday. A bold, radiant, light-hearted and immediate film about beauty, pleasure and fleetingness, which puts us back in touch with a generation that discovered the world through the cinema.
Wednesday 26 August
Begone Dull Care
Norman McLaren and Evelyn Lambart, 1949, 7'
Les tambours d'avant: Tourou et Bitti
Jean Rouch, 1971, 12', Catalan subtitles
Thelonious Monk: Straight, No Chaser
Charlotte Zwerin, 1989, 90', Catalan subtitles
The materials are varied, but the heart of this moving film, produced by Eastwood, is provided by rough footage of the private Thelonious Monk, with his worn shoes and hats, lost in solitude, chasing his private ghosts, cutting in phrases and amazing us on the piano with his action playing: "he moves his hesitant fingers through the air, allows them to drop and we are saved, Thelonious the captain is here and our course is set for a while" (Julio Cortázar).
Thursday 27 August
A Song for the Lovers, by Richard Ashcroft
Jonathan Glazer, 2001, 6', Original version
The Conversation
Francis Ford Coppola, 1974, 110', Spanish subtitles
A detective who carries out audio surveillance makes an apparently banal recording of a couple in a park that gradually plunges him into an unsolvable case. This is Coppola's own personal Blow-Up: a dark, technological thriller that stuns us with the perceptive enigma of sound. Palme d'Or at Cannes.

reserving seats• dogs • bicycles • canned or bottled drinks
You might also be interested in
International call for films generated with artificial intelligence
with filmmaker Luis Macías (CraterLab)