Gandules
Gandules'05
Extravagancies
Audiovisuals + Festivals
Free
Gandules'05, our programme of open-air film sessions for summer nights, proposes a cycle of comedies, satires and films that move between the two genres: films of journeys and displacements, of out-of-context characters who move from one space to another, from one register to another, from the centre to the periphery, from the norm to transgression.
Gandules'05, the programme of open-air cinema for August nights, proposes Extravagances - satires, comedies and works that move in the borderlands between the two genres. Sometimes this area is ironic, sometimes it encounters humour -or its bitter-sweet backdrop- in the various deviations or confluences. These are extravagant films, and extravagant is also the word to describe their characters, misfits or wanderers often in conflict with society, and their adventures and journeys.
The cycle proposes a dual displacement: thematic (the drifting of the characters, their condition as misplaced individuals) and stylistic (in the variety of register and tones, in their eccentricity and freedom of forms).

PROGRAMME


Week 1
Tuesday 2 August
The Pilgrim, Charles Chaplin, 1923, 47', 35 mm, Spanish subtitles
Chaplin escapes from prison and arrives, dressed as a priest, in a small town where he is taken for the new vicar. Based on this mistake, Chaplin's last short film is a satire of puritanism and provincial life, packed with memorable images of mistaken identities. The closing shot, in which he walks away with one foot on either side of the border between the United States and Mexico, was later picked up in Kaurismäki's Ariel.
Ariel, Aki Kaurismäki, 1988, 74', 35 mm, Spanish subtitles
When the mine where he works is closed down, a worker undertakes a journey around Finland, during which he suffers various misfortunes that take him to prison. In his films, Aki Kaurismäki produces with irony and laconicism an imaginary, melancholy and alcoholic Finland that is far removed from a state of wellbeing: one of the most biting, profound portrayals of life on the edge.
Wednesday 3 August
A Scene at the Sea, Takeshi Kitano, 1991, 100', 35 mm, Spanish subtitles
In his most austere, minimalist film, Takeshi Kitano narrates the far-from-epic adventures of a deaf-mute who aspires to be a surfing champion. By means of an ironic distance that reviews, polishes and elides the commonplaces of Hollywood movies about young people fighting against all the odds, the film becomes a slight story of love between the boy and a deaf-mute girl.
Thursday 4 August
La terra vista dalla luna, Pier Paolo Pasolini, 1966, 31', BetaSP, Spanish subtitles
Having lost respectively their wife and mother, Totò and his son Miaou are looking for a woman to look after them. After a fruitless but comic search, they find a lovely deaf-mute who seems to be the ideal woman. This is a colourist tale with a moral that appears in an end title: 'Alive or dead, it's all the same', revealing the influence of Chaplin's films on the work of Pasolini.
Palombella rossa, Nanni Moretti, 1989, 90', 35 mm, Spanish subtitles
Nanni Moretti plays an amnesiac who, in the course of a water polo match, slowly recovers his memory. The evocations of his adolescence and his activity as a Communist Member of Parliament gradually merge both in his memory and in the unusual freedom of tone of a film that intersperses ideological satire, jokes and musical, offering an extravagant view of politics and the media.

Week 2
Tuesday 9 August
Two Tars, James Parrot, 1928, 20', 16 mm, Spanish subtitles
Laurel and Hardy play sailors who hire a car and invite two girls to go for a drive in the country. The journey is constantly held up by problems with other drivers and by a huge traffic jam at the end. Renowned as one of the best comic short films, Two Tars displays a polished balance between the gags and the spiral of destruction.
Nuts in May, Mike Leigh, 1976, 84', DigiBeta, Spanish subtitles
Mike Leigh made various films for the BBC which are now regarded as classics for their searing satire of British society and their detailed attention to the grotesque side of custom. In Nuts in May, a vegetarian couple who are advocates of an outmoded kind of ecology plan their camping holiday down to the last detail, but things soon start to go wrong due to a series of disasters and disputes with the occupants of neighbouring tents.
Wednesday 10 August
Cocorico! Monsieur Poulet , Jean Rouch, 1974, 90', BetaSP, Spanish subtitles
Jean Rouch's cinema was based on complicity with the actors (often also screenplay writers), improvisation and narrative digressions. His most humorous film, Cocorico! Monsieur Poulet, takes fact (one of the actors was a travelling chicken salesman) as the basis for the adventures of three friends who travel through Niger in an old 2CV, in a journey packed with unusual happenings.
Thursday 11 August
Cul-de-sac, Roman Polanski, 1966, 106', 35 mm, Spanish subtitles
After a failed hold-up, an awkward gangster and his dying partner take refuge in a castle by the coast inhabited by a neurotic industrialist and his French wife. While waiting for their boss to pick them up, relations with the couple become more involved and the plot turns into a black comedy, suggestive of the theatre of the absurd, packed with Polanski's own grotesque, cruel and satirical elements.
Week 3

Tuesday 16 August
L'école des facteurs, Jacques Tati, 1947, 15', DVD, Spanish subtitles
Jacques Tati's short is an outline sketch for Holiday , explaining the bumbling comings and goings of a postman who delivers the mail on bicycle to a village and its surrounding area. As a trial run for the future work, it shows how Tati gradually configured his cinema by observing people's gestures, words and rituals, which he submitted to a measured process of figurative stylisation.
Les favoris de la lune, Otar Iosseliani, 1984, 101', DVD, Spanish subtitles
In the form of a musical fugue, with a melancholy, ironic style inspired by Tati, Otar Iosseliani films various crisscrossing stories that centre on Paris and gravitate around minor criminal events. It is a choreographic film with a meticulous rhythm based on displacement around the city and an incisive, polished observation of society's mechanisms and class divisions.
Wednesday 17 August
Lásky jedné plavovlásky / Loves of a Blonde, Milos Forman, 1965, 83', 35 mm, Spanish subtitles
At a village dance, a girl meets a musician whom she decides to visit a few days later. When she gets to the city, he is not yet home and she has to wait in the company of the boy's parents. With this film, Forman produces a bitter-sweet sentimental chronicle which is an accomplished mixture of documentary, almost sociological commentary and satirical distortion, in registers that sometimes blend and sometimes contrast sharply.
Thursday 18 August
Il Bidone / The Swindlers, Federico Fellini, 1955, 104', 35 mm, Spanish subtitles
Taking as his protagonist an American gangster film actor, Fellini follows the vicissitudes of three delinquents who mix with the poor and underprivileged. But evil and guilt ultimately damage the most wretched minds... The supposed ingenuity of the disguise tells a distressing story that makes its way between black humour and harsh realism, culminating in a stark, pathetic end.
Week 4

Tuesday 23 August
Vincent (1982, 7') and Frankenweenie (1984, 24'), Tim Burton, 35 mm, Spanish subtitles
In these short films, Tim Burton illustrates his affiliations by means of imaginative parodies of the fantastic genre. Vincent, narrated in verse, is the story of a 7-year-old boy who dreams he is Vincent Price and features in a horror film. In Frankenweenie, Victor Frankenstein, a 10-year-old boy, manages to resuscitate his dead dog which is then repudiated by the neighbours as a monster.
Sherlock Junior, Buster Keaton, 1924, 45', 35 mm, Spanish subtitles
In Sherlock Junior, Keaton plays a film projectionist who falls asleep and dreams he is a detective who walks into a cinema screen to conquer the girl he loves. Keaton uses this parody of detective films to create a splendid comic image of how the world is transformed by the cinema, which appears as a space of infinite metamorphosis open to our dreams and desires.
Wednesday 24 August
Six O'clock News, Ross McElwee, 1997, 113', DigiBeta, Spanish subtitles
When his son is born, Ross Mc Elwee starts to become obsessed with the six o'clock news and decides to investigate the true stories behind the images. This is a documentary in the first person which alternates dramatic chronicle with humorous notes about the fragile position of the individual who sees from a distance how television fabricates reality.
Thursday 25 August
On the Air, David Lynch, 1992, 30', BetaSP, Spanish subtitles
Only seven chapters were made of this strange and wild series by David Lynch, full of eccentric characters and marked by a style that is closest to the cartoon world. In this session, we show the first and best of the seven, directed by Lynch himself, which tells of the first airing of a television show , made despite constant hitches which paradoxically become the reason for its success.
Hellzapoppin, Henry C. Potter, 1941, 84', 35 mm, Spanish subtitles
A young writer wants to stage a show. We see the entire chaotic process in a sarcastic, absurd comedy about the cinema inside the cinema that subverts Hollywood's conventional narrative mechanisms. The two protagonists, Olsen and Johnson, adapted the musical comedy with which they triumphed on Broadway into a film whose influence extends as far as Lynch's series.
Directors: Charles Chaplin, Aki Kaurismäki, Takeshi Kitano, Pier Paolo Pasolini, Nanni Moretti, James Parrot, Mike Leigh, Jean Rouch, Roman Polanski, Jacques Tati, Otar Iosseliani, Milos Forman, Federico Fellini, Tim Burton, Buster Keaton, Ross McElwee, David Lynch, Henry C. Potter
This activity is part of Gandules 2005, Gandules
You might also be interested in
Monthly film forum sessions at Xcèntric Archive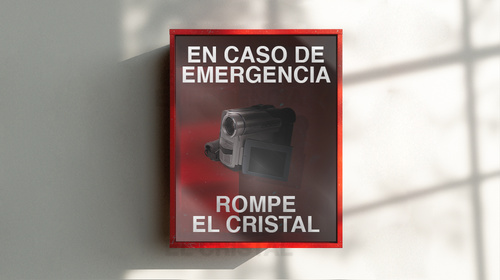 A talk with Dean Luis Reyes plus a screening of "Option Zero" (La opción cero)