Xcèntric. 2009-2010
El Aullido [The Howling]
The latest film by the artist Frederic Amat
Audiovisuals
Free
El Aullido [The Howling], the latest film by the artist Frederic Amat, based on an original screenplay by Cabrera Infante.



Attended by the author and the actor Jordi Vilches.


"In El Aullido, Guillermo Cabrera Infante evokes the peculiar setting of the village of Gibara, in the Cuban province of Oriente, where he was born in 1929 and which he left at the age of 12 to move with his family to Havana. In El Aullido, the only light is that of the cold sulphur moon and its shadows, and the only sound is that of howling, running through this nocturnal film of desolate images in which we perceive a mosaic of scenes in a surprising premonition of drift and its tragic fate on the shores of a blackened sea.
In El Aullido, viewers hear the legend told by an old domino player and written on signs which, like inserted short dialogues, occupy the screen: 'When a dog howled late on a moonlit night, it was because it could see something, and if anyone went up to the dog and collected two tears from its eyes and put them in his own, he would see what the dog saw, but not live to tell the tale.'
In El Aullido, the desire to see another light, despite the risk of losing one's life, is materialized, inviting the viewer's eyes to witness a final scene of blazing, pendular presence."
Frederic Amat
El Aullido, Frederic Amat. Spain, 2009, 22 min, video (premiere in Barcelona)
You might also be interested in
Monthly film forum sessions at Xcèntric Archive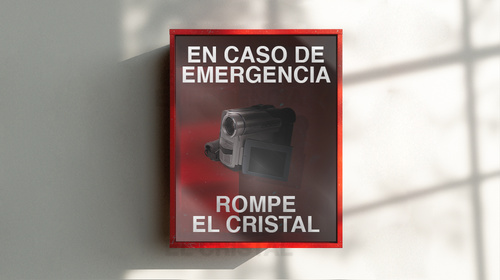 A talk with Dean Luis Reyes plus a screening of "Option Zero" (La opción cero)