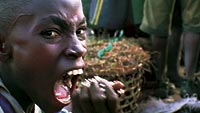 NOW 2007
Darwin's nightmare
Audiovisuals
Free
Hubert Sauper, France, Austria and Belgium, 2004, 107', english with spanish subtitles
Darwin's Nightmare denounces the devastating effects that may be caused by the artificial alteration of trophic chains and their influence on the most tragic aspects of globalisation. The clandestine introduction of a predatory fish (Nile perch) into Lake Victoria, the largest tropical lake in the world, caused the extinction of more than 200 species and at the same time allowed the flowering of a private fishing industry created exclusively for foreign markets. Hubert Sauper explains the heartrending situation of 25 million people who live near the lake, most of whom have ended up exposed to conditions of extreme poverty, malnutrition, prostitution and violence.
Considered one of the best European documentaries of recent years, Darwin's Nightmare is not only the horrific tale of a brutal spoliation, but also directly tackles First World responsibility for Africa's bleak present.
You might also be interested in
Riot Grrrl: girls to the front!