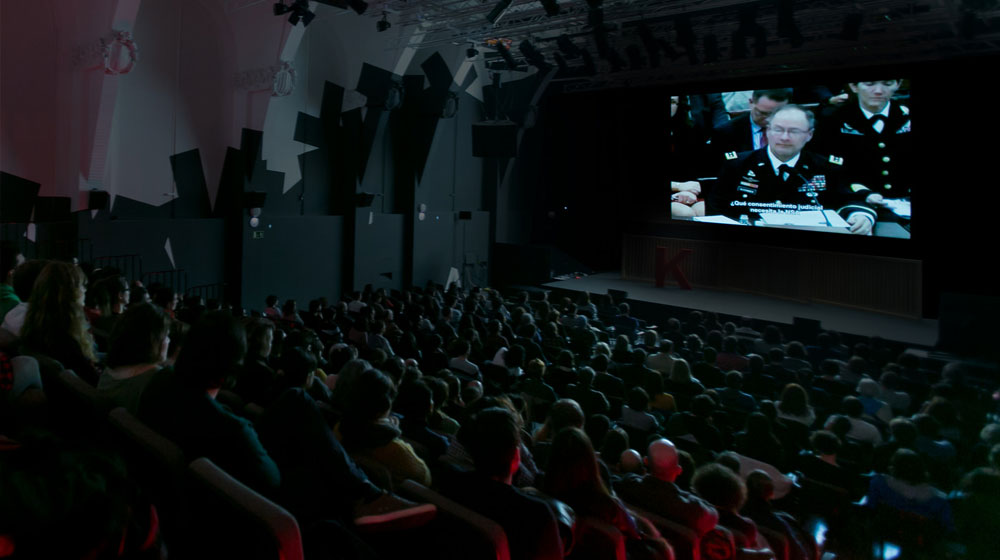 Xcèntric. 2009-2010
Andy Warhol's fixed gaze
Screenings in the Foyer and Auditorium
Audiovisuals
This double programme, shown simultaneously in two spaces (Foyer and Auditorium), presents two pieces from the little-known but oft quoted film production of Andy Warhol. Empire, a point of reference and a vital part of his first cinematographic phase, is screened in the foyer. Warhol anchored the camera to show us the Empire State Building, which acquires a phantasmagorical appearance produced by the hypnotic flickering of the screening, the result of projecting the film at a slower speed than it was filmed at. Based on the idea of the intent, fixed gaze and materialized by the mechanical device that is the film camera, the film has no sound except the rhythmic internal mechanism of the projector.
In the auditorium, the programme is completed by the pivotal film Outer and Inner Space, with the mythical Edie Sedgwick as the absolute lead in the clear predecessor of what was to be his best-known film, The Chelsea Girls (1966), made a year later. This work, conceived to be shown on one or two screens, was Warhol's first multiscreening experience.
Empire
, Andy Warhol. USA, 1964, 485', b/w, silent, 16 mm FOYER,
11 a.m. to 8 p.m. Free admission
Outer and Inner Space, Andy Warhol, 1965, USA, 33', b/w, sound, double screen, two projectors, 16 mm (24 fps), AUDITORIUM, 6 p.m. and 7 p.m.
You might also be interested in
Riot Grrrl: girls to the front!