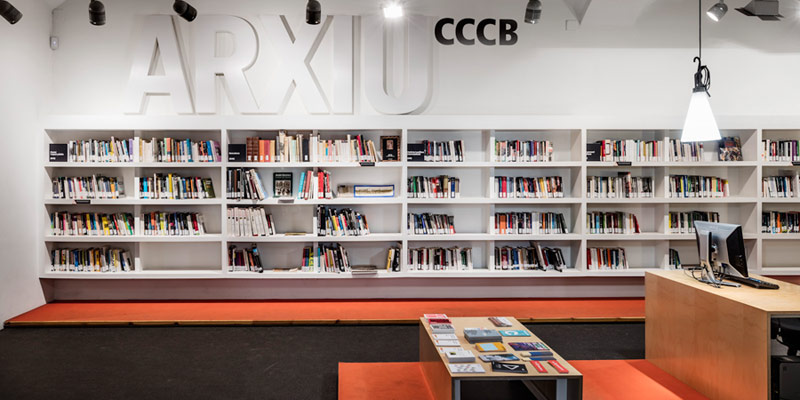 CCCB Archive
Space for consultation with over 10,000 multimedia references on key subjects for culture and contemporary thinking. It constitutes the CCCB's documentary collection and has been generated by the Centre's debates, exhibitions, festivals, concerts and publications.
It also includes consultation points for the Archive of the European Prize for Urban Public Space, with documentation on the successive biennial competitions held, and the OVNI Archive, with over 2,000 audiovisual pieces that include video art, independent documentaries, mass media archaeology, etc.
The Archive also houses the CCCB's bibliographic collection, formed by almost 3,000 monographs collected as documentary support for activities organised by the centre. Highlights, among other subjects, are an important library collection on public space and a selection of publications by the CCCB (exhibition catalogues and the collections Breus, Dixit and Urbanitats).
Check the bibliographic collection
From Tuesday to Friday
15.00 - 20.00
Non-holiday Mondays Closed
Saturdays, Sundays and Bank Holidays
11.00 - 20.00

Dates closed
25 December and 1 and 5 January
Dates with restricted opening times (11.00 – 15.00)
24, 26, 31 December and 6 January
At present, the Archive is not accessible online and it is necessary to consult it in person.
Free entry and consultation of materials.
Free Wi-Fi.
Contact and programmed visits: arxiu@cccb.org.