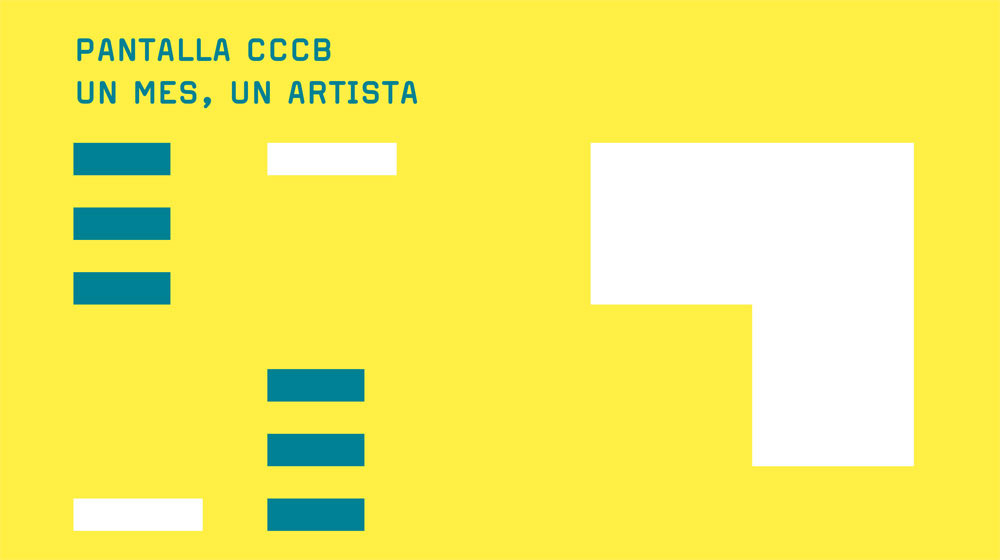 Pantalla CCCB
Pantalla CCCB, a month an artist
"Pantalla CCCB, a month an artist" was presented as an audiovisual exhibition space in our building and, at the same time, a screen on our website: a space for contemplation, a window on the work of these creators, for discovery, knowledge and enjoyment. The CCCB choosed the creators, and they choosed the content to go on show. For a month, Pantalla CCCB offered a monographic showcase of each creator or collective of artists.
Artists
From November 2014 until January 2017, 23 creators and artistic collectives presented their work:
Los Ingrávidos

Dostopos
Gerard Freixes
Florencia Aliberti
No crèdit
Anita Serrano
Terrorismo de Autor
Michel Goossens
Greta Alfaro
David Ferrando
Roger La Puente
Jordi Díaz Fernánde
Vení
Laura F. Gibellini
David Domingo (aka Stanley Sunday)
Xiana Gómez-Díaz
Job Ramos
Irene Solà
Alberto Bougleux
Marla Jacarilla
Elisa Martínez & Co.
Jonathan Cremades
Related contents
Photographer and audiovisual artist
Mar Ordonez was the outstanding artist of the project "Pantalla CCCB, a month, an artist" during December 2016 and January 2017. In this interview, the creator talks about her work and her artistic and literary influences, such as Man Ray or Samuel Beckett.
Online and in-person video creation
Mar Ordonez (Palma, 13 February 1986) is a Barcelona-based artist who works with analogue photography and experimental video art. Principally known for portraying women from a singular viewpoint, her creations address issues such as identity, doubles and the body as a form of expression and language...