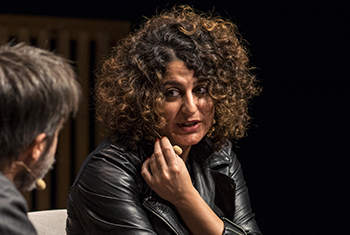 Zeina Abirached
One of the most important authors of autobiographic comics today, her works have been selected by the Angoulême International Comics Festival and translated into various languages.
Zeina Abirached (Beirut, 1981) is one of the most important autobiographic comic illustrators to emerge in the last decade. She achieved international acclaim and entrance to the Official Section of the Angoulême Festival with A Game for Swallows: To Die, To Leave, To Return (Graphic Universe, 2012) a book where she remembers her childhood in a Lebanon at the height of civil war. In I Remember Beirut (Graphic Universe, 2014) she continues evoking scenes from her childhood and teenage years, in the style of the homonymous book by Georges Perec.
Her most recent work, Le Piano oriental (Casterman, 2015), chosen as one of the major works of the year at the Angoulême Festival and honoured with the Prix Phénix 2016, builds a bridge between East and West thanks to a personal adventure and a family memory, spun through the presence of a travelling piano.
Contents
Fertile Hybridisations of Reality and Fiction
Has participated in
Autobiographic live sessions: pop music concerts, stand-up comedy, theatre and narrative