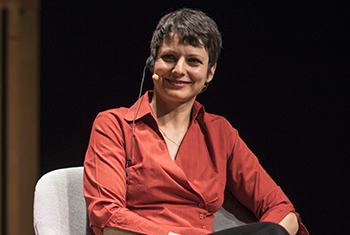 Sophie Divry
Feminist writer and insightful observer, she is one of the most original and promising French voices of the moment.
Sophie Divry (Montpellier, 1979) is of of the most outstanding novelists of the newest crop of French narrators. She has worked as a journalist for publications such as La Décroissance and Le Monde Diplomatique.
An activist for feminist movements, Divry has observed, with a caustic, never complacent pen, different aspects of our society, subjected like no other to constant change, in her four novels: she explores loneliness in The Library of Unrequited Love (Maclehose Press, 2013), religious beliefs in Journal d'un recommencement (Noir sur blanc, 2013), everyday dissatisfaction in La condition pavillonnaire (Noir sur blanc, 2014), and the discontent of an educated and disaffected French youth in Quand le diable sortit de la salle de bain (Noir sur blanc, 2014).
Contents
Colloquium between Kirsty Logan, Sophie Divry and Marina Espasa
The first public presentation of the "New Voices of Europe"
Colloquium between Jean Echenoz and Sophie Divry. Moderator: Albert Lladó