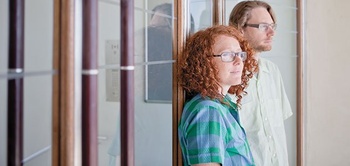 Semiconductor: Ruth Jarman and Joe Gerhardt
British film duo formed by Ruth Jarman (1972) and Joe Gerhardt (1972) in 1999. This group explores perceptions of the natural world to understand the physical forces that inhabit the universe that surrounds us. Their work is based on various audiovisual media, such as single- or multichannel video, sound, installation,performance or DVD. They are currently based in Brighton.
Semiconductor has received grants from institutions such as NASA Space Sciences Laboratories (UC Berkeley, California), the Berwick Gymnasium Fellowship (Berwick-upon-Tweed, UK) and the Couvent des Récollets (Paris). Their creations have been shown at London's Royal Academy, the Hirshhorn Museum in Washington DC, the Venice Biennale, Liverpool's FACT, the CAC in Cincinnati, Sundance Film Festival and Rotterdam International Film Festival. Since 2006, the group has received numerous distinctions in various international competitions. Limited HD editions of Magnetic Movies and Brilliant Noise form part of the permanent collections of the Hirshhorn Museum in Washington and the Centre Pompidou in Paris.