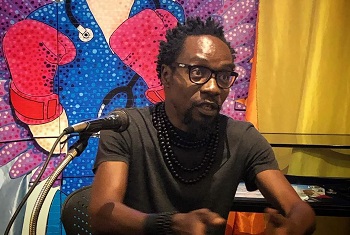 Nzé Ramón Esono Ebalé
Illustrator, multidisciplinary artist, and activist.
Also known as Ramón Esono and Jamón y Queso, he is one of Equatorial Guinea's most widely recognised illustrators. The publication in 2015 of the graphic novel La pesadilla de Obi (self-published, in English Obi's Nightmare), which he wrote with two other writers who decided to remain anonymous, led to his incarceration in the Playa Negra prison. He was freed six months later thanks to a vigorous international campaign organised by artists and organisations working for human rights and freedom of expression, among them Human Rights Watch, Amnesty International, and PEN International. Notable for its use of humour, this novel harshly condemns the human rights violations committed by the regime of the Equatoguinean president Teodoro Obiang, who has been in power since a coup d'état in 1979. Esono is self-taught and his creations have received many awards, including the 2017 Courage in Editorial Cartooning Award of the Cartoonists Rights Network International, the 2017 Veu Lliure (Free Voice) Award of the Catalan PEN Centre, and his work is shown at the ARCO Fair in Madrid, the Feshcary Centre in Cameroon, the Alger International Comic Festival, and elsewhere. With the journalist Pere Ortín he is author of the graphic novel Diez mil elefantes (Ten Thousand Elephants, Reservoir Books, 2022), which is a journey back to Spain's colonial past in Equatorial Guinea.
Update: 13 September 2022