Mísia Sert
Mísia Sert holds a degree in Humanities, with studies including a PhD in literature from the Pompeu Fabra University and a Master's degree in Cultural Studies and European Literature from the University of London.
After working for some years at publishing company Seix Barral and collaborating with institutions such as the IEMED, since the year 2004 she has been working on promoting Catalan literature abroad from the Institut Ramon Llull (IRL). A regular at the main international literary fairs and festivals, she has combined her work on programmes for the translation and promotion of authors with the design and programming of contents for literary festivals, giving priority to dialogue between writers and from a multi-disciplinary perspective.
Since 2013 she has been coordinating the IRL's participation in the European Schwob project which promotes the translation and promotion of forgotten modern classics. The project has been financed with funds from the Culture programme 2007-2013 and its partners, together with the IRL, are the institutions for the promotion of literature of Poland, Finland, Wales and the Netherlands, as well as the European Society of Authors (Finnegans's List).
Over the course of recent years she has consolidated a broad network of international relations with publishers and literary institutions, taking part in the management and monitoring of different projects for the promotion of literature.
Contents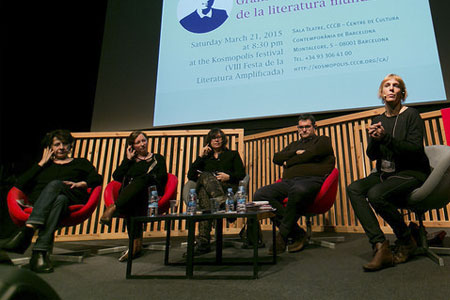 Dialogue with Hoda Barakat, Jordi Puntí, Alida Bremer and Misia Sert
Has participated in
Europe in Translation – The Schwob/Finnegan's List Project