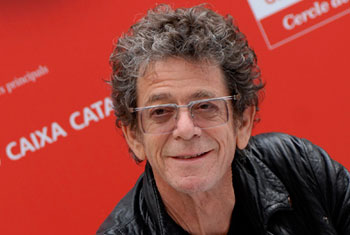 Lou Reed
Musician, singer and songwriter
New York, 1942 - Long Island 2013
Composer, songwriter, singer and guitarist. He received numerous awards during his career. He was inducted into the Rock and Roll Hall of Fame as a founding member of The Velvet Underground in 1996 and obtained the Heroes de NARAS (National Academy of Recording Arts and Sciences) given by the New York Division in 1997. That same year, the French government awarded him the Chevalier Commandeur de la Orden de las Letras y las Ciencias. He was also named American Master in 1998 by the award-winning documentary series on PBS and, that same year, Lou Reed: Rock and Roll Heart won the Grammy for the best long-format music video. He has also wrote and performed the soundtracks to numerous films. In 1999, he published Pass Thru Fire, an anthology of his lyrics, and in 2003 his revision of Edgar Allen Poe's The Raven was staged by Robert Wilson.
He established himself as a photographer, publishing the book Emotion In Action (2003) followed by Lou Reed's New York (2006), a book of images that have been exhibited around the world. In 2006, he premiered the show Berlin in New York, which was filmed by Julian Schnabel.
Contents
Poetry Reading "Made in Catalunya"