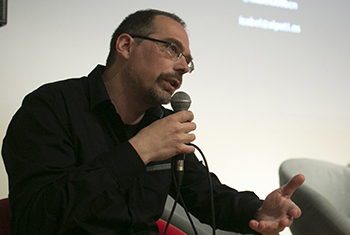 Lau Delgado
Producer, teacher and audiovisual manager
Lau Delgado (London, 1974) is coordinator of the betevé Medialab, formatter of Life&Pictures, executive producer of the multi-platform project Rius de tinta for betevé and member of the collective Innovación Audiovisual.
He has been coordinator of the Centre for Audiovisual Research and Distribution in Granollers; head of contents for the Audiovisual Market of Catalonia; director of the audiovisual department of Focus; creator of the DO project for new television formats; director of the department of new formats for XTVL and consultant for the Centre for Audiovisual Development, and for La Laboral, Ciudad de la Cultura. He has also produced and directed documentaries and television programmes for TVE, TVC, ETB, TPA and XTVL.
He holds a postgraduate certificate in Media Psychology (Salford University), a Master's degree in interactive television (UPC), a post-graduate qualification in international cultural cooperation projects (UB) and a degree in humanities (UPF). He is currently taking a law degree (UOC). He is associate professor at the UPF and at the Inesdi Digital Business School.
Contents