Juliana Rueda
Sound engineer, director and owner of the sound studio miut, which specialises in audiobooks and audiovisual projects.
Juliana Rueda (Bogotá, 1978) studied music and sound engineering and in 2003 moved to Barcelona where she took a Master's degree in sound for cinema and audiovisual media (URL). In 2010, after working on various projects, she went solo and launched miut, a sound studio that focuses on audiovisual projects.
In 2012 she started to produce for Penguin Random House some of its top-selling works such as La Catedral del Mar by Ildefonso Falcones, El coronel no tiene quien le escriba by Gabriel García Márquez and La ladrona de libros by Markus Zusak. She currently continues producing audiobooks of the highest quality for the Spanish-speaking market and her catalogue features over seventy titles produced.
Contents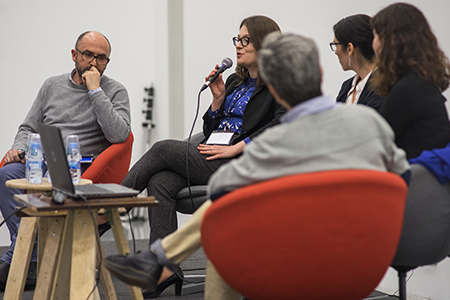 Round table with Irene Fortes, Benjamín Figueres, Paulina Wardęga, Juliana Rueda. Moderator: Javier Celaya