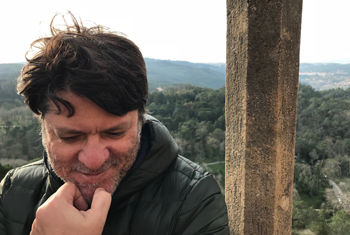 Iván de la Nuez
Essayist, art critic and curator (Havana, 1964). De la Nuez was Head of the Cultural Activities Department at the Centre de Cultura Contemporània de Barcelona and director of exhibitions at La Virreina Centre de la Imatge.
His most outstanding publications include: La balsa perpetua (1998); El mapa de sal (2001); Fantasía Roja (2006); El comunista manifiesto (2013); Teoría de la retaguardia (2018) and Cubantropía (2020).
También ha sido comisario de diferentes exposiciones, como La isla posible (1995); Inundaciones (1999); Parque humano (2002); Postcapital (2006); La Crisis es Crítica (2009); Atopía. El arte y la ciudad en el siglo XXI (2010); Iconocracia (2015), Pintar contra el tiempo (2018) y Nunca real / Siempre verdadero (2019) y La utopía paralela (2019).
Publications
Art i ciutat al segle XXI / Art and City in the 21st Century