Hoda Barakat
This Lebanese writer and journalist is one of the most original voices of contemporary Arab literature.
Hoda Barakat (Lebanon, 1952) is one of the most original voices in modern Arab literature. After graduating in French Literature at the University of Beirut, in 1975 she moved to Paris to take a PhD, but decided to return to Lebanon when civil war broke out there. She has worked as a teacher, journalist and translator. Her first collection of short stories was published in 1985, and since then the list has continued to grow. Her novels include The Stone of Laughter (1990) [original title Hajar al-Dahk حجر الضحك]; The Tiller of Waters (2007); My Master and My Beloved (2008) and Disciples of Passion (2008).
Her books have been translated into several languages, in 2000 she was awarded the prestigious Naguib Mahfouz Prize for her work and in 2002 she was appointed Chevalier de l'Ordre des Arts et des Lettres by the French Ministry of Culture and Chevalier de l'Ordre du Mérite National in 2008. She is currently resident in Paris.
Contents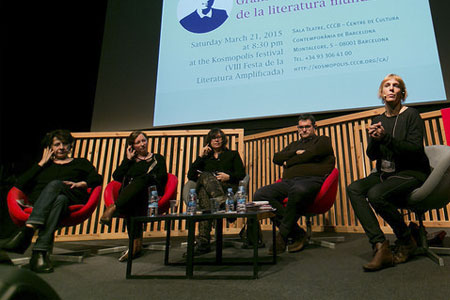 Dialogue with Hoda Barakat, Jordi Puntí, Alida Bremer and Misia Sert
Has participated in
Europe in Translation – The Schwob/Finnegan's List Project