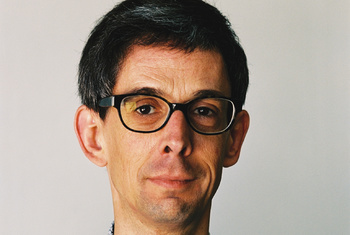 Hannes Schüpbach
Hannes Schüpbach was born in Winterthur (Switzerland) in 1965. He is a painter, filmmaker and writer. From 1988 to 1991 he studied at the Hochschule für Gestaltung in Zurich and the Hochschule für Gestaltung und Kunst in Basel, followed, in 1992–1993, by classes in Cinema Studies as well as Performance Studies at New York University. Since 1999 Schüpbach has completed eleven silent films. However, his artistic practice with elements of the cinematographic dates back to 1990, with spatial installations and serial paintings that can be experienced through movement. Several of his films, among them Erzählung (2007), L'Atelier (2007), Contour (2011), Instants (2012), and Essais (2020) deal with the artistic process as such.
His films and installations have been shown in screenings and exhibitions at major venues such as Kunsthalle Basel (solo exhibition "Stills and Movies", curated by Adam Szymczyk), Museo Nacional Centro de Arte Reina Sofía, Madrid, Harvard Film Archive, Cambridge, Tate Modern, London (all 2009); Centre Pompidou, Paris, Kunsthalle Vienna, LUX/ICA Biennial of Moving Images, London, Kunstmuseum Winterthur (2012); Arsenal, Berlin, Gene Siskel Film Center, Chicago (series "Conversations at the Edge", organized by the SAIC), Whitechapel Gallery, London (2013); International Film Festival Rotterdam (2014); Fri Art Kunsthalle Fribourg (2015); CCCB Centre de Cultura Contemporània de Barcelona (2016); Cineteca Nazionale, Rome, Stadtprojektionen, St. Gallen, Filmpodium, Zurich (2017); Filmoteca de Galicia (2018); Literaturmuseum Strauhof, Zurich (2021); Nunnery Gallery, Bow Arts, London, EX FF 2022, Frankfurt am Main, Internationale Kurzfilmtage Winterthur (2022).
Since 2009 he works on preserving and bringing to the public the oeuvre of Swiss artist Klaus Lutz (1940–2009), in collaboration with Frank Matter and the Verein für die Erhaltung des Werks von Klaus Lutz. He has recently written on the films of visual artists Rudy Burckhardt (for Kunstmuseum Basel, 2005, Fotostiftung Winterthur, 2014, and Museum Tinguely, Basel, 2022), Klaus Lutz (BFI, London, published by Projections, 2020) and Werner von Mutzenbecher (Kunsthaus Baselland, Basel, 2022).