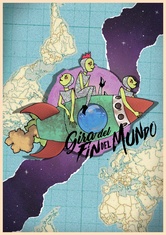 Gira del Fin del Mundo
They have journeyed long on brooms and rockets from across the Atlantic. From the south, way down south. Driven by a lively wave and an untamed wind, they are the descendants of hybridization, civilization and barbarism, and are driven by desire, built of experiences, and moved by collective stories.
They are a multidisciplinary itinerant performing company that has landed in Barcelona with the aim of making interchanges and getting to know audiences and stages in order to create with the mix, generating spaces for commotion to take place.
Their way of creating is to play with their own authorial and performing traditions: myths, stories, gestures, humour and sentimentality. Associated with the theatre of being, the popular artists of Rio de la Plata and theatrical forms such as the Creole circus and variety theatre, they use techniques like improvisation and stage dramaturgy, where the body becomes the main scene and the audience is complicit in the fiction.
In these times of constant change, when almost everything is questioned and we inevitably have to reinvent ourselves, they confirm the convictions that persist: Art and its potential to transform, artists as generators of life practices, and artistic experiences as spaces of symbolic resignification.