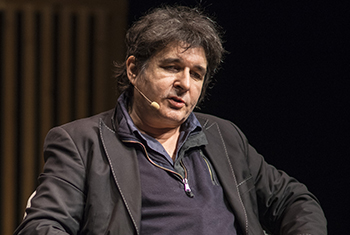 Frédéric Pajak
Publisher writer and illustrator, he was the first author to win the Prix Médicis Essai for non-fiction with a graphic work.
Frédéric Pajak (Hauts-de-Seine, 1955) is an illustrator, writer and publisher. Since 2002 he has directed Les Cahiers dessinés and is the author of 24 books that have been published internationally.
With L'immense solitude (Presses universitaires de France, 1999) he embarked upon a new genre, the graphic essay, and its quality and originality earned him the Prix Michel Dentan, the highest literary accolade in Switzerland. Since 2012 he has published an annual volume of Manifeste incertain (Les Éditions Noir sur Blanc), a work halfway between biography, autobiography, essay and poetry for which he received the Prix Médicis for non-fiction.
In 2015 he was curator of the exhibition "Les Cahiers dessinés" at the Halle Saint Pierre and in 2018 he will be presenting another exhibition, "Dessins politiques, dessins poétiques". Pajak is the author of a the medium-length film En souvenir du monde, and is currently preparing two films for Arte: Aubrun, l'absolue peinture and L'Art du dessin.