Dive Dibosso
Dive Dibosso became known as a producer of the hip hop group 7 notas 7 colores with which in the year 2000 he was nominated for the Latin Grammys. In Spain, he has produced tracks with the most important Hip Hop artists in the country, prominently including Mala Rodríguez, whose Yo marco el minuto (Yo gano/Universal, 00) became the central track for the film Lucía y el sexo (2001) directed by Julio Medem.
After being nominated for the Grammy Prizes, Dive abandoned the production sphere to focus on mixing and mastering in the studio that he opened together with Eddy Drammeh, both founders and members of the Leon Drammaz group. Over the course of his career he has worked with groups with such different styles as funk, hip hop, dance hall, pop and rumba, and has produced the mixing and production of studio vocals for tracks by La Kinky Beat and Dorian, among many others.
In 2012 he returned to production, developing the Esperpento project with Lilo927, Franklin and Payaso Manchego. In this new phase he has resorted to analogical synthesisers for the live creation of sound textures.
Contents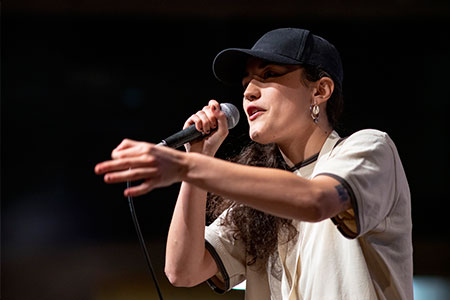 Fourth edition of Gran Slam Barcelona
Clotilde de Brito, Dani Orviz, Laura Sam, Raquel Lima, Toby Campion, Salva Soler, Simone Savogin, Crisal, Jose Luis Cabeza and Dive Dibosso
Has participated in
Bohdan Piasecki, Nilson Muniz, Isa García, Michael James Parker, Salva Soler, Diego Mattarucco, Kristoph Horvath, Jee Kast, Seis en raya and Set sentits. Presenter: Payaso Manchego. Dj: Dive Dibosso