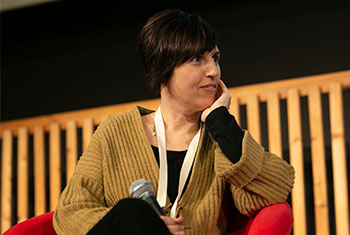 Coral Cruz
Coral Cruz holds a degree in journalism and graduated from the ECAM in the Scriptwriting speciality. She has been working on the development of audiovisual projects as scriptwriter and script editor for twenty years. She has co-authored, among others, Morir with Fernando Franco, Incerta glòria with Agustí Villaronga and Els dies que vindran with Carlos Marques-Marcet. She is also author of the screen adaptation of Vida privada, a miniseries directed by Silvia Munt and of La vida sense la Sara Amat, directed by Laura Jou and based on the homonymous novel by Pep Puig.
Among her most prominent works as a script editor are Pa negre, La teta asustada, La vida de los peces,10.000km, Verónica and Mapa.
She has also worked as teacher of scriptwriting for over ten years at the Blanquerna Faculty, Universitat Ramón Llull and at the ECAM, and she is author of the reference book Imágenes Narradas. Cómo hacer visible lo invisible en un guión de cine (Laertes, 2014).