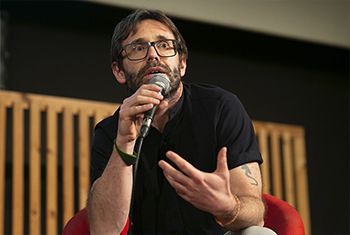 Alberto Marini
Scriptwriter, producer and teacher at ESCAC
Alberto Marini is a scriptwriter, producer and teacher at ESCAC (the Cinema and Audiovisual School of Catalonia) and on the Master's in Scriptwriting at the Pontifical University of Salamanca.
He has written the screen adaptations of Sleep Tight (J. Balagueró), based on his own novel, and Extinction (M. A. Vivas), inspired by the book Y pese a todo by Juan de Dios Garduño. His most recent work as a scriptwriter includes Retribution (D. de la Torre), which earned him a Goya nomination for Best Original Script, and Your Son (M. A. Vivas).
His credits as executive producer include the films [REC] (J. Balagueró and P. Plaza), The Way (Emilio Estévez) and The Last Days (Álex and David Pastor).