Science Fiction and Fantasy
Experimental mythologies of the 21st century
Since the very first edition of the Kosmopolis festival we have promoted science fiction and the fantasy genre as "experimental mythologies", as suggested by Pablo Capanna, and we have presented, among others, authors such as William Gibson, Brian W. Aldiss, Joe Haldeman, Neil Gaiman, Kim Stanley Robinson, George RR Martin and Rhianna Pratchet.
Lecture by William Gibson
In this lecture, William Gibson presents an in-depth analysis of his influences, including cinema, television, essay, music, design and history. In the process, he will focus on the artefacts and the cultural attitudes that he considers to be aspects of the "source code" of his writing.
Lecture by Brian W. Aldiss
The writer outlines the essential characteristics of the best science fiction, calling for special intelligence on the part of the reader, a necessary participant in a "fierce game" in which Aldiss tends to attack fundamental beliefs that other forms of popular literature only go to ...
Lecture by Joe Haldeman
If the only inevitable tings are "death and taxes", it's as well to ask oneself if the institution that unites them –war– is also inevitable. There are aspects of war which don't seem to have changed much from Troy to the Pentagon, but there are new factors, as encouraging as they are ...
Lecture by Neil Gaiman
Neil Gaiman is a creator of science fiction and fantastic stories that become novels, comics, films, and plays. His world is inhabited by eternal and terrible creatures or by children who exchange their father for two coloured fish. Spend an evening with this author of exceptional imagination who ...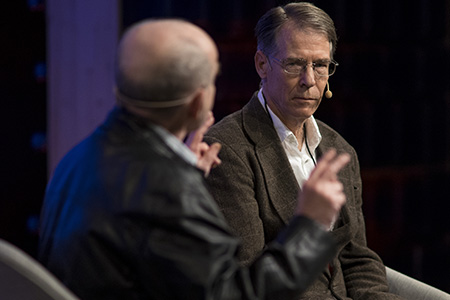 The New Reality: Climate Fiction
'Climate Fiction', set in the near future, is the realistic fiction of our time, and Kim Stanley Robinson is its leading practitioner. Veteran SF author Ian Watson will discuss with Kim Stanley Robinson his career committed constructively to surveying how our human race may survive the ...
Interviews with Elizabeth Hand, Cory Doctorow, Brian W. Aldiss, George R. R. Martin, John Clute and Kim Stanley Robinson
A special report for Kosmopolis '05 from the 63rd World Science Fiction Convention held in Glasgow from 4 to 8 of August 2005, with a series of exclusive interviews conducted by Marcial Souto with Elizabeth Hand, Cory Doctorow, Brian Aldiss, George R. R. Martin, John Clutte and Kim ...
Kosmopolis
Of the many authors who passed through the Eurocon, we've selected the ones-not-to-miss and propose a series of short interviews in which they introduce themselves and give a short tour of their work.
Rhianna Pratchett in Conversation in the frame of the science fiction convention «Eurocon 2016»
The author Rhianna Pratchett gives a British take on the way narrative models are constantly evolving in the fantasy worlds created by the booming videogame sector.
Novel of anticipation, novelised science, fantascience, speculative fiction… Many definitions have been given for science fiction, a form of literature that has given rise to an (experimental) mythology of our time. In this podcast we approach one of the richest and most complex genres ...