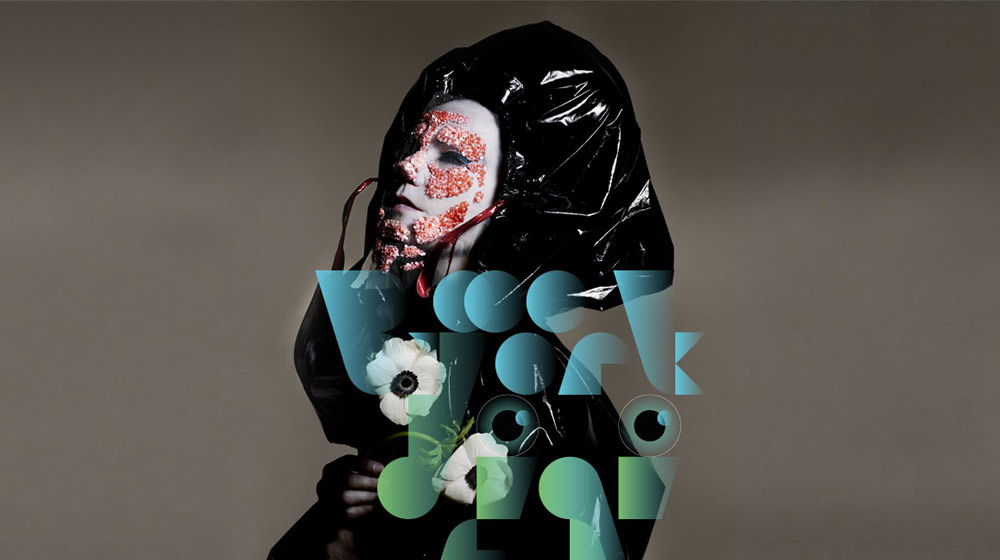 Exhibition
Björk Digital
"Björk Digital" is an immersive virtual reality exhibition that presents the digital and video works produced by the collaboration of the iconic Icelandic artist and some of the world's best programmers and visual artists.The show arrives at the CCCB after visiting Tokyo, Sydney, Montreal, Reykjavik, London and Los Angeles and is the only chance to visit the exhibition in Spain.
Inspired by Björk's own discography and especially by her latest album Vulnicura, the experience combines performance, cinema, installation, video and interaction and includes audiovisual pieces produced with the latest in virtual reality technology.
"I think we need to put humanity into technology—the soul. It's about using technology to get closer to people, to be more creative."
Björk
Vulnicura, the wounds album
The exhibition is a journey through some of the main tracks from Vulnicura, one of Björk's most intimate and highly-acclaimed albums, which the artist created following her break-up from her partner.
An immersive itinerary
A 90-minute tour that enables you to live, in the first person, a sensorial, almost theatrical experience of connection with the artist. Technologies such as panoramic video, wraparound sound, 360º virtual reality, 3D images and VR controls and headsets allow the viewer to disconnect in order to interact with the Björk universe.
A journey to Iceland and the inner world of Björk
In pieces such as Black Lake, Björk uses the striking Icelandic mountains to transmit her mood. The work, directed by Thomas Huang, has been exhibited at the MOMA in New York.
Björk sings for you
The piece Stonemilker VR functions as an exclusive recital in which singer and viewer meet face-to-face in a remote environment: a wild beach in Iceland.
Video clips that are art
Notget VR, one of the virtual reality pieces, has recently won the Grand Prix at the Cannes Festival. You will also be able to see a selection of the best music videos from Björk's career, directed by visual creators such as Michel Gondry, Spike Jonze, Alexander McQueen, Nick Knight, Stéphane Sednaoui and the more recent Jesse Kanda, Andrew Thomas Huang, Warren du Prees and Nick Thornton Jones, among others.
"Virtual reality is not only a continuity to the music video but has an even more intimate theatrical potential, ideal for this emotional journey."

Björk
Contents of Björk Digital
The exhibition begins with Black Lake, Björk's groundbreaking video commissioned by New York's Museum of Modern Art. It treats audiences to panoramic visuals and envelops them in a bespoke, cutting edge surround-sound system. Filmed in the highlands of Iceland, the work was directed by the Los Angeles-based filmmaker Andrew Thomas Huang.
We then immerse ourselves in the artist's changing universe through virtual reality:
Stonemilker VR, also created in association with Huang, transports the viewer to a private performance of the first track from Björk's critically acclaimed Vulnicura album. Shot on location on a remote, windswept beach in Iceland and viewable in full 360-degree VR, the viewer is able to experience a one-to-one performance.
Quicksand VR captures, in augmented virtual reality, a live performance by Björk at Miraikan, Tokyo when she appeared wearing a 3D printed headpiece by Neri Oxman. A close collaboration with Dentsu Lab Tokyo, it was originally streamed worldwide in 360º and is now presented with additional virtual elements.
For Mouthmantra VR Björk worked with director Jesse Kanda. It takes the viewer to an extraordinary place: inside Björk's mouth while she sings the title track from Vulnicura.
Family VR is the centrepiece in the VR anthology for Vulnicura and encapsulates the full emotional arc of Björk's journey from despair to empowerment. Directed by Andrew Thomas Huang with co-creative direction by Björk and James Merry.
The immersive route closes with Notget VR, directed by Warren Du Preez and Nick Thornton Jones, which presents Björk as a digital moth giantess transformed by stunning masks created by artist James Merry. This work has won a Grand Prix at the International Festival of Creativity Cannes Lions 2017.
Next, a gallery showcases Björk's extensive music videos spanning her 24-year career and her collaborations with film directors, including the award-winning Spike Jonze, Michel Gondry, Nick Knight and Stephane Sedanaoui.
Finally, there is a hands-on educational space where visitors can play the custom-made musical instruments from Björk's previous album Biophilia (2012). It explores the connection between the natural and technological worlds. Visitors can disentangle the melodies and compose their own versions of tracks from the album.
Related contents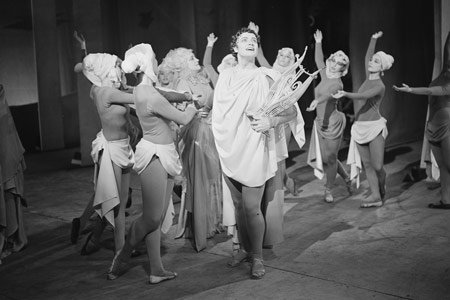 Carles Sora
Björk's immersive experience marks a turning point in terms of experiencing music thanks to virtual reality.