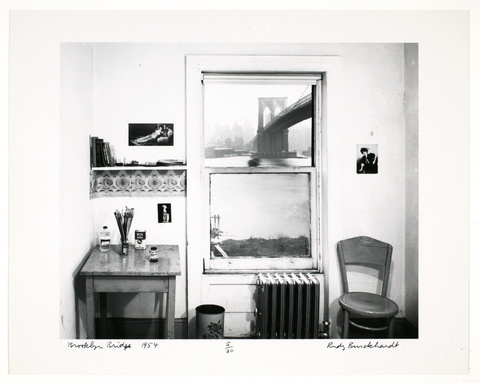 Xcèntric. 2010-2011
Still Moving. New York Year Zero
Audiovisuals
This programme explores the coming together of photography and documentary film, centring on a historic moment between the mid-1950s and the 1960s when photographers/filmmakers, sometimes hidden and furtive, or as voyeurs, could capture raw, spontaneous snapshots of life with a naturalness that is now perhaps impossible. The five films screened in the AUDITORIUM, made in New York, are extraordinary achievements in the search for truth at 24fs using the urban landscape: Weegee puts aside a more symphonic montage and optical distortions in his portrait of Coney Island bathers; in Burckhardt and Cornell's films, children swim in the East River or play at the foot of a statue of Mozart; Goldman goes from Times Square to Harlem, with a harsh representation of poverty, rage, drunkenness; and, then in 2003, Robert Frenz produces an expressionist portrait of dusk and the city by night. By way of complement, the Foyer continuously screens El carrer, by Joan Colom, a memorable portrait of everyday life in the Raval under Francoism.
Weegee's New York, Arthur "Weegee" Felling, USA, 1954, 20 min.; Under Brooklyn Bridge, Rudy Burckhardt, USA, 1954, 15 min.; What Mozart Saw on Mulberry Street, Joseph Cornell and Rudy Burckhardt, 1958, 6 min.; Pestilent City, Peter Emanuel Goldman, USA, 1965, 16 mm, 16 min.; Meditations on Revolution, Part V: Foreign City, Robert Fenz, 2003, 16 mm, 32 min.
HALL (from 4 p.m. to 8 p.m.): El carrer, Joan Colom, 1960, 30 min
You might also be interested in
Riot Grrrl: girls to the front!