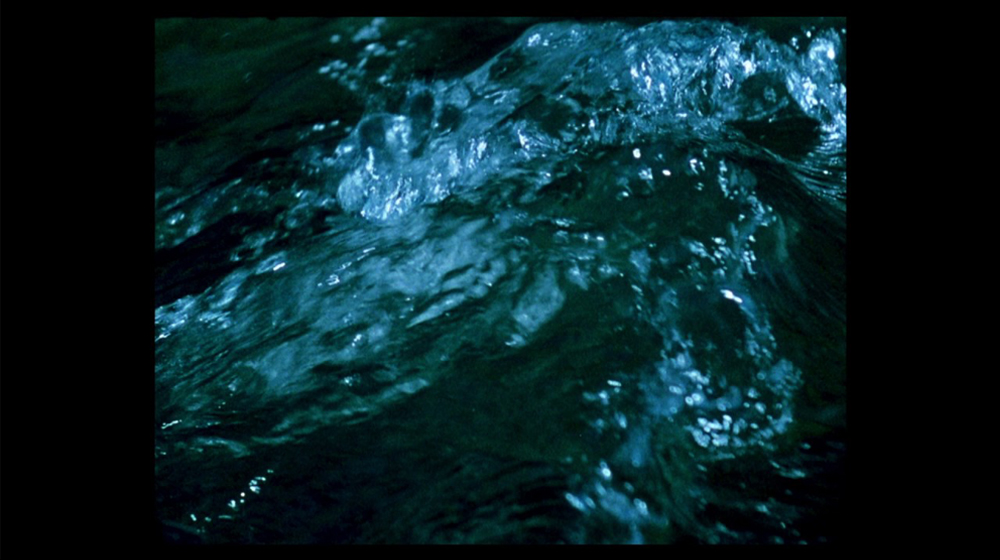 Xcèntric 2018
Oceanic lives: glaciers, seas, streams and a few riddles
The CCCB's cinema
Audiovisuals
Water, in all of its forms, is the driving force of this programme: from icebergs—a possible Eden for Stan Brakhage—to the icy ponds and streams of J. J. Murphy. The session concludes at the bottom of the sea, with David Gatten's series of cameraless films and the small particles that occupy the entire space of a big screen imagined by Brakhage.
The programme opens with a film of an apparently recently created world: the icy rocks cut and we see the life of the glaciers. An unexpected insert of Jane, the wife of the filmmaker during a crisis in their relationship, gives way to the misty forests of Alaska. This twofold landscape returns in two of J. J. Murphy's films: Ice, which, in a golden Iowa dawn, presents natural elements that are imperceptible to the eye in 50 icy ponds, and In Progress, where the lenses frost over due to the camera's passivity in the presence of abundant mist.
However, Murphy's films conceal his riddles: the refilming in Sky Blue Water Light Sign (we won't say what we see "in reality" to preserve the mystery) does not detract from the beauty of the stream, like the rephotography of Ice, the soundtrack of which is recorded under water. Here, the submersion is definitive. In What the Water Said, a nine-year project, Gatten documents underwater life on the coast of South Carolina, in which the unexposed, unprocessed film makes the water intervene and reveal the processes of both cinema and nature. Like Commingled Containers, Brakhage's return to "filmed cinema" after a long illness, Gatten's are not just topographical films (about gauging the health of water that "speaks"), they are also lyrical: while in What the Water Said, sea salt is inscribed on the emulsion, in Commingled Containers the filmmaker, on the seabed, is reconciled with the world.
Creation, Stan Brakhage, 1979, USA, 17 min;
Ice, J. J. Murphy, 1972, USA, 7 min;
In Progress, J. J. Murphy, 1972, USA, 18 min;
Sky Blue Water Light Sign, J. J. Murphy, 1979, USA, 9 min;
What the Water Said Nos. 1-3, David Gatten, 1998, USA, 16 min;
What the Water Said, Nos. 4-6, David Gatten, 2006-07, USA, 17 min;
Commingled Containers, Stan Brakhage, 1997, USA, 5 min.
16 mm screenings.
Related contents
José Antongio Sistiaga, Peter Nestler, David Perlov, Leslie Thornton, Shellie Fleming, Pat O'Neill, Stan Brakhage, David Gatten Robert Beavers and Helga Fanderl are some of the filmmakers featured in our programme January- February 2018 of Xcèntric.
You might also be interested in
Riot Grrrl: girls to the front!