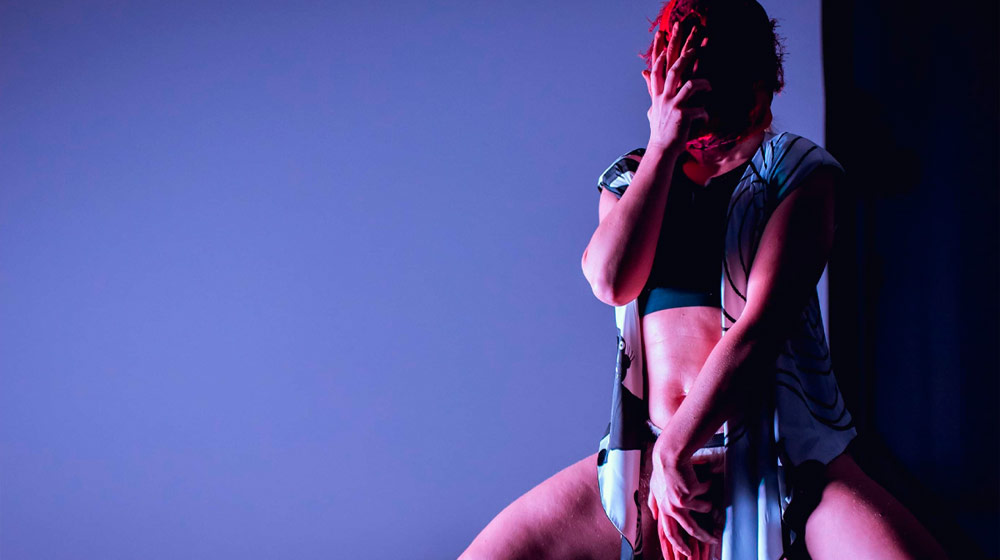 SÂLMON 2022
Larva
Marta Ziółek
Scene
Choreographer Marta Ziółek presents a dance solo as a feminist manifesto that explores the body's capacity to express concerns and alter existing orders, and turns performing space into a space of transgression.
Larva (Body Concert) is a protest song, a punk celebration of self-immolation in which death becomes the overture of the performer's embodiment. It is a dance solo focused on the power of vocalization and its political implications, exploring the body's ability to voice concerns, destabilize and disrupt the existing orders.
Larva is a feminist manifesto meant to be shameless, loud, and raw. It is a personal and political statement, a song about the power of the guts' scream, about the liquid sexuality and eroticism that escapes the control of power. It is a tribute to the punk performances of Diamanda Galás.
Larva uses the theatre stage as a liminal space where various mediums of experience intertwine: cinema, theatre, concert, and ritual. An integral part of this hour-long performance is a video referring to the tradition of feminist eroticism, rejecting patriarchal and misogynist portrayals of female sexuality and pleasure.
By drawing from punk and hip-hop, the performer creates a self-explosive, clownish form of misbehaviour fuelling the choreography and the quality of dance on stage. Larva animates and re-animates the body in parts and becomes a spectacle of inappropriate behaviours, gestures, and utterances. Larva is a ghost-mask that transforms the theatre stage into a space of transgression.
A combined ticket can be purchased for the show Larva and the concerts of Medasawa and Bella Báguena.
Concept, choreography, performance Marta Ziółek | Dramaturgy Teresa Fazan | Film Adam Zduńczyk | Masks Mateusz Bidziński | Music Wojciech Blecharz, Natan Kryszk | Drums Bartosz Szablowski/Bruno Jasieński | Costumes Joanna Hawrot | Graphics for costume Marcin Domański | Scenography Natan Kryszk, Pola Czunikin-Krasowicka | Lights direction Aleksandr Provaliński | Voice work, support in the process Agata Bargiel | Production Komuna Warszawa Theatre
You might also be interested in
Creation Based on the Word and the Scene
Creation Based on the Word and the Scene