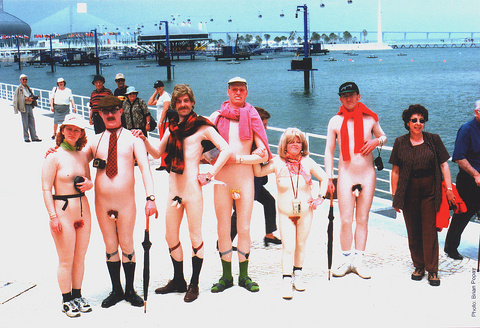 InnMotion
InnMotion 2009
Biennial International Festival of Visual and Performing Arts Applied
Scene + Music + Festivals
Visual and performing arts ideas looking for new lines of communication by merging art, thought, science and technology.
Area 1, practical observation: What are artists for?

Crisis area: We want our money back!

Area *<>: Divertimentos, sometimes pornographic (only for those who know where the clitoris is)

Permanent area: Free Night Live Sessions


2009: An unprecedented economic crisis and a transformation of the postulates on which the world order is based. Two huge "phenomena" of looting and privatization are the foundation on which today's crumbling system has been constructed in recent decades. In both "phenomena", artists, more or less voluntarily, have been the principal agents:
1. Firstly, city centres, where residents with fewest resources live, have been allowed to become rundown. The area is then taken over by artists who change the face of the neighbourhood, increasing its value with no need for social investment. "Bohemia" leads to price increases that are unsustainable for the original residents, creating the property bubble.
2. The second phenomenon has emerged directly in the name of the artists. This is an attempt to survive a now obsolete system intent on pushing through the largest operation to privatize knowledge since the printing press was invented. Every day we see fanatical attacks on civil rights and the right of access to knowledge in the name of artists and the incongruous concept of "intellectual property".
Are artists, as the principal agents of one of the worst plagues of the age in which we live, taking the hint?
Step right up and see for yourself.
Related contents
La mà sinistra, de Valeriano López
El Greco's Christian Gentelman raises his right hand to his chest, whil his left hand remains unperturbed. PROJECTION: 1 and 2 July
Filthy food
Pornographic divertimento
You might also be interested in
Creation Based on the Word and the Scene
Creation Based on the Word and the Scene