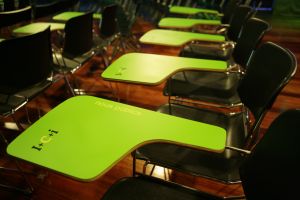 I+C+i. Research and innovation in the cultural sphere
I+C+i - New Culture on the Internet
With Antoni Abad and Inés Garriga
Debate
Free
L'Anella Cultural is a project that brings together different culture centres in order to produce and exchange knowledge through Internet2. Inés Garriga, coordinator of Fi2Cat Audiovisual Cluster, and Antoni Abad, artist specializing in new approaches, show the potential of this initiative using a prototype proposed by the creator. The dynamics of innovation, forms of consumption and the production of culture related to CITs (communication and information technologies) and the transformation of formats will be the central axis of this session.

From 6 pm you can visit the I+C+i information corner.


Related contents
Debate with Inés Garriga and Antoni Abad
I+C+I session about "New culture on the Internet", held in Mirador CCCB on 4th march 2008.
You might also be interested in
Javier Borràs, Irene Masdeu Torruella, Xavier Ortells and Maialen Marín