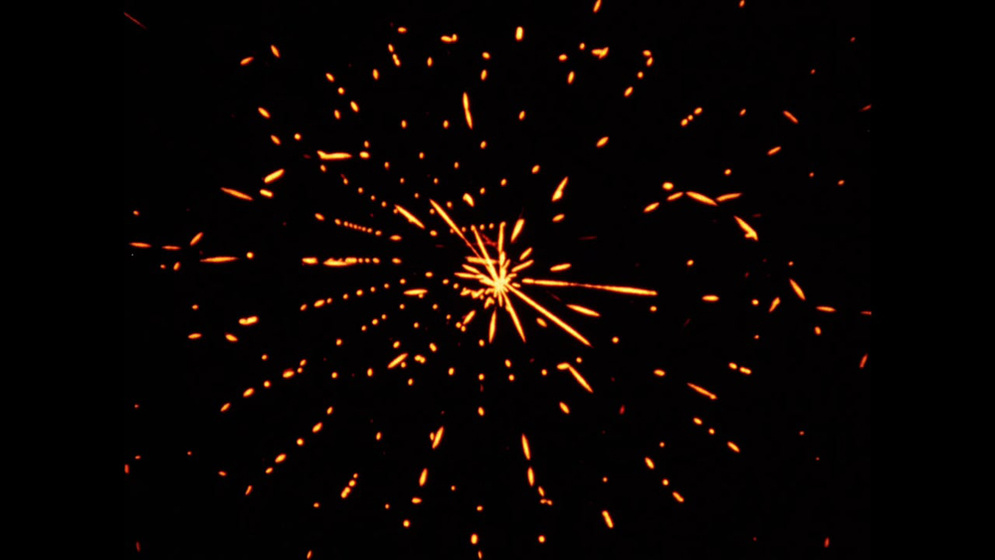 Xcèntric. Autumn 2016
Geometric drift and spiritual constructions
Screenings to accompany The Thinking Machine. Ramon Llull and the «ars combinatoria»
Audiovisuals +
Before artists worked with computers, a series of avant-garde painters such as Oskar Fischinger, Harry Smith and Jordan Belson created a form of non-narrative film that addressed geometry, the possibilities of mathematic combinations, and spirituality. After these visionaries, artists like John Whitney embraced the new synthetic image medium to continue exploring abstract animation. Many artists have followed in their wake, up until the present day.
Geometric drift
December 1 - 20.00
Non-narrative, non-linear cinema that explores music, colour and rhythm in a space that takes the frame as a unit for filmic creation.
Lichtspiel Opus I, Walter Ruttmann, 1921, 16 mm, 11'10"
Rhythmus 21, Hans Richter, 1923, 16 mm, silent, 3'20"
Symphonie Diagonale, Viking Eggeling, 1924, 16mm, silent, 6'40"
Abstronic, Mary Ellen Bute, 1952, 16 mm, 7'
Uts Cero, Javier Aguirre, 1970, 10'
Syncromy, Norman McLaren, 1979, 16 mm, 7'30"
Cubic Limit, Manfred Mohr, 1973-74, digital, silent, 3'39''
Organisation II, Christian Lebrat, 1977, 16 mm, silent, 5'
Calculated Movements, Larry Cuba, 1985, 16 mm, 6'
Modern nº 2, Mirai Mizue, Japón, 2011, digital, 4'
Spiritual constructions
December 4 - 18.30
Bohemians, mystics or visionaries. In abstract animation, these painters, some associated with Dada, others with the Beat generation, found a medium to express their visions. In addition to geometric graphics, colour and music play an important part in these films.
Spiritual Constructions, Oskar Fischinger, 1927, 16 mm, 7'
Komposition in Blau, Oskar Fischinger, 1935, 16 mm, 4'
Early Abstractions Nr. 7, Harry Smith, 1951, 16 mm, 6'
Allures, Jordan Belson, 1961, 16 mm, 7'
Lapis, James Whitney, 1966, 16 mm, 10'
Permutations, John Whitney, 1968, 16 mm, 8'
Samadhi, Jordan Belson, 1967, digital, 6'
Mutations, Lillian Schwartz, 1972, digital, 7'
Playpiece 2. Dreamtime, Dance of the Shaman, Lesley Keen, digital, 7'31"
Directors: Walter Ruttmann, Hans Richter, Viking Eggeling, Mary Ellen Bute, Javier Aguirre, Norman McLaren, Larry Cuba, Oskar Fischinger, Harry Smith, Jordan Belson, James Whitney, John Whitney, Lesley Keen, Manfred Mohr, Christian Lebrat, Lillian F. Schwartz
This activity is part of Xcèntric. Autumn 2016
You might also be interested in
Cinema for all the family
The Super-8 and 16 mm scene in Spain