S+T+ARTS – Repairing the Present Artist Residencies
"Geo-Llum" by Samira Benini Allaouat
Artist Residence S+T+ARTS Repairing the present
Festivals
"Geo-Llum" by the artist Samira Benini Allaouat, is a proposal for public lighting in urban spaces based on a bacterium that produces electricity while decontaminating the soil. As well as offering sustainable solutions to light the city, "Geo-Llum" is also a performative artwork, a light sculpture in the street. Samira Benini Allaouat will be developing this hybrid installation combining art and science in the course of 2022 in Barcelona.
"Geo-Llum" is the winning project of the S+T+ARTS Repairing the Present residence hosted by the CCCB, Sónar and the UPC to find solutions to the challenge "How can we integrate microorganisms to design more sustainable cities?". Artist Samira Benini Allaouat proposes an imaginative, sustainable solution to the need for street lighting in urban spaces.
The project aims to reimagine the role of public lighting in urban spaces with a symbiotic relationship between the artificial and the natural world, focusing on a deeper understanding of the fundamental importance of nature as collaborator in the city.
The final work consists in a light sculpture that can facilitate different tasks in order to create an autonomous and hybrid performative artwork.
The structure expect to be built with recycled elements, partially 3D printed with biomaterials and powered by a bioelectro battery cell with the help of the Geobacters, a bacteria that produces electricity while decontaminating the soil. Here the essential points of interest: Public lighting, rain water collection, bioremediation and free energy/electricity production.
"Geo-Llum" has the possibility to be developed in Barcelona thanks to the support of Akasha Hub in collaboration with Green City Lab, at the moment acting as mediators and strategical planning organizers. They will host the first pilot soil regeneration program in Barcelona with the government city program of Mans al Verd, from Decidim participative platform.
The jury of this residence, formed by the experts group Jens Hauser, curator; Robert Thomson, Scientific Director MaterFad; Areti Markopoulou, Academic Director IAAC; Jordi Morató, PhD in Microbiology UAB and Caroline Jones, curator at MIT School of Architecture and Planning, has awarded Geo-Llum because "presents a promising opportunity to combine artistic and scientific research, design, urban ecology, citizen science and community engagement in order to encourage habitants to more deeply reflect on human/nonhuman interaction in cityscapes".
This blog will narrate the creation process: https://bit.ly/Blog_GeoLlum


Related contents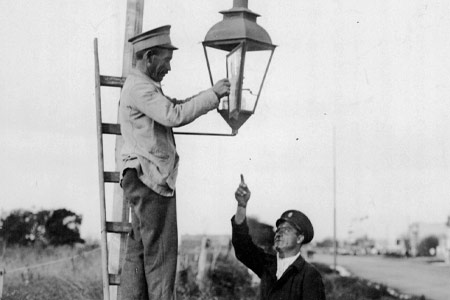 Jens Hauser
The urban design project "Geo-LLum" proposes an experimental bacteria-powered public lightening system in Barcelona's El Clot neighbourhood.
The artist Samira Benini Allaouat presents "Geo-Llum", an artistic installation that also works as public and ecological lighting. It is a proposal for public lighting in urban spaces based on a bacterium that produces electricity while decontaminating the soil. "Geo-Llum" is the ...
You might also be interested in
Ego trip: who would I want to be?
10th International TV-Series Festival of Barcelona
The Amplified Literature Fest