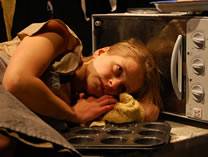 Grec. Festival de Barcelona
Fast Forward 2008
UK's emerging scenes
Scene + Music
London and the United Kingdom are in the limelight. Fast Forward brings to Barcelona some of the most alternative materials from the British scene, ideas still at the conception stage, new initiatives that are about to burst forth.
A festival within a Grec'08. Festival de Barcelona
In just over four hours, Fast Forward brings nine shows to the CCCB. Each spectator can choose which ones to see, according to individual tastes and the capacity of the venue. Everyone sets their own pace for the night: on one entrance ticket, you can go in and out of the CCCB as often as you like
VENUES AND TIMES
8:30 p.m
Hall
Test Run, by Vincent Dance Theatre
A delicate symbiosis between the movement of dancer Janusz Orlik and the violin music of Patrycja Kujawska and Matt Howden.
Director: Charlotte Vincent
Devised and performed by: Janusz Orlik, Patrycja Kujawska and Matt Howden
Lighting design: James Harrison
Running time: 30 min
Autidorium
My Arm, by Tim Crouch
The things we do when we are children mark us for life. My Arm is the story of an empty gesture, told through a combination of live performance, digital film and the animation of everyday objects.
Written and performed by: Tim Crouch
Directed by: Tim Crouch, Karl James and Hettie Macdonald
Digital image: Chris Dorley-Brown
Running time: 60 min
Acknowledgements: Escena Contemporánea

9:30 p.m.

Hall
Look At Me Now, Mummy, by Vincent Dance Theatre
In this new solo, Aurora Lubos exquisitely creates a sense of vulnerability in a meticulously crafted, witty and endearing performance.
Directed and designed by: Charlotte Vincent
Devised and performed by: Aurora Lubos
Lighting design: James Harrison
Running time: 35 min
Auditorium
Superjumbo, by Richard DeDomenici
Ambitious prop-heavy, but self-contained, one-man-show set within a new Airbus A380. Promises to be a lo-fi audio/visual spectacle, but may fail to live up to this promise.
Written, directed and performed by: Richard DeDomenici
Consultant: Luci Briginshaw
Running time: 45 min
in cooperation with Artsadmin

10:00 p.m.
Pati de les Dones
Tights / I, by A2
A reflection on identity, manipulation and the capacity to make choices. Two masked bodies attempt to break the moulds, but what will they do once they have broken them?
Directed and performed by: A2- Alit Kreiz, Anton Mirto
Lighting design: Sarah Gilmartin
Costumes: Helen Woolfenden
Sound: Melanie Wilson
Voice: Anton Mirto
Movement consultant: Fiona Creese
Running time: 12 min
Developed with the support of the LIFT Blue Room Residency

10.30 p.m.
Hall
Alice Bell, by Lone Twin Theatre
A musical fairy-tale for our times, Alice Bell offers a portrait of life as an act of hope, life as something to sing and dance about.
Created and performed by: Antoine Fraval, Cynthia Whelan, Molly Haslund, Nina Tecklenburg and Paul Gazzola
Artistic directors: Gary Winters and Gregg Whelan
Dramaturgy: David Williams
Production manager/lighting designer: Joe Mapson
Producer: Catherine Walpole
Company manager: Kate Houlden
Running time: 75 min
Pati de les Dones
Presumption, by Third Angel
A couple, aged around thirty. They've been together for seven years. This is a piece about two people who have been gradually talking less, but slowly wanting more.
Authors: Alexander Kelly, Chris Thorpe and Rachel Walton
Cast: Lucy Ellison and Chris Thorpe
Directed and designed by: Alexander Kelly and Rachel Walton
Technical manager: Martin Fuller
Running time: 75 min

12:00 p.m.
Hall
Low Life, by Blind Summit Theatre
Sketches on the characters in a bar, inspired by the no-holds-barred short stories of Charles Bukowski.
Created and directed by: Blind Summit Theatre
Puppet design: Blind Summit Theatre
Lighting design: Fiona Simpson
Performers: Nick Barnes, Mark Down and Josie Daxter
Puppets built by: Nick Barnes, Yvonne Stone and Alejandra Garcia
Costumes: Jackie Risman, Dulcie Best
Running time. 60 min
Auditorium
I Have No Thoughts And This Is One Of Them, by Tine Van Aerschot
A middle-aged, middle class woman, reasonably highly educated, some things done and many more still to do. Still, the doubts and questions persist.
Text: Tine Van Aerschot
Concept and direction: Tine Van Aerschot and Claire Marshall
Performed by: Claire Marshall
Lighting design: Luc Schaltin
Production: Palindroom vzw
Co-production: Kaaitheater & Vooruit
Running time: 60 min
Supported by the Flemish Community and the Flemish Community of Brussels Capital
You might also be interested in
Creation Based on the Word and the Scene