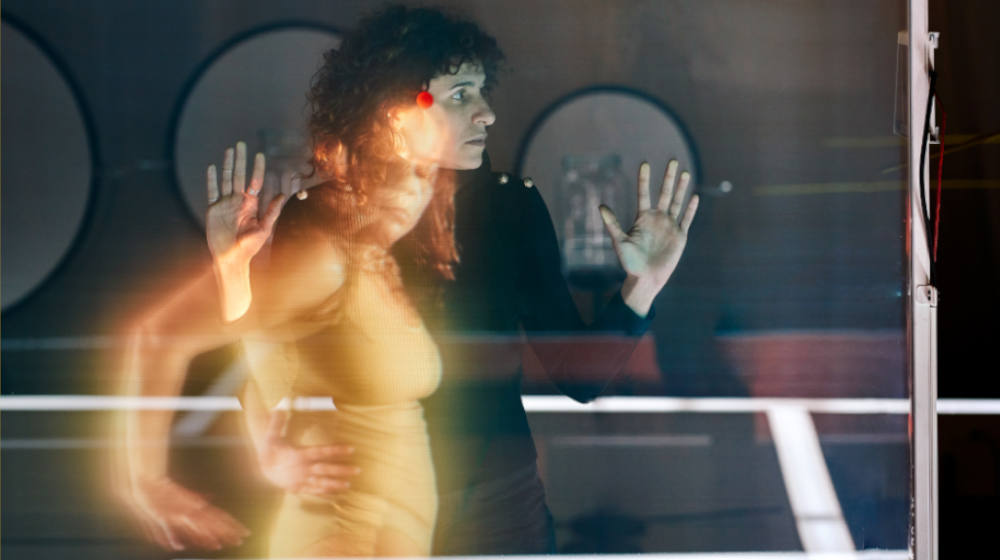 Grec 2023
Demons
An Expanded Theatre Trilogy by Cabosanroque (II)
Scene
What is possession? The exorcisms in which Jacint Verdaguer took part provide the starting point for this work of experimental format, half-expanded theatre and half-sound installation, around which the audience can move freely.
Demons is a visual and sound ceremony, in which the audience is immersed in Cabosanroque's skilfully orchestrated choreography. Trapped inside this installation that is a recreation of the Barcelona apartment, the audience is both a passive and an active subject. Because what is theatre if not a form of possession?
In late-19th-century Barcelona, a city shaken by anarchism, communism, Darwinism and spiritualism, a well-known writer and religious man of the time attended a series of exorcism sessions in an apartment on Carrer de Mirallers, in the Born district. Father Cinto took notes of everything he saw in notebooks that were never published during the poet's lifetime.
In 2014, another poet, Enric Casasses, published an annotated edition of those texts, Dimonis, a volume of remarkable value from which Cabosanroque take the most poetic, surprising and contemporary fragments. They do so with the collaboration of artistes like flamenco singer Niño de Elche, and flamenco dancer and choreographer Rocío Molina, along with anthropologists, scientists and poets speaking in recordings about the concept of possession.
Cabosanroque's trilogy
Demons premiered in 2020 and forms part of the trilogy that Laia Torrents and Roger Aixut (Cabosanroque) devote to three key figures in Catalan literature. It is presented at this year's Grec Festival, along with Joan Brossa Didn't Make Me (2016) and Flowers and Journeys (2023), which speaks of war and women by means of a reading of Mercè Rodoreda.
Artistic credits
Concept, creation, dramaturgy, direction, sound design, composition and stage design: Cabosanroque (Laia Torrents Carulla, Roger Aixut Sampietro) | Text: Jacint Verdaguer, Maya Deren | Translation of Maya Deren's text: Martí Sales | Original music: Cabosanroque and versions by Cabosanroque of Veni creator, by Rabanus Maurus, and The Unanswered Question, by Charles Ives | Sound installations: Cabosanroque | Lighting design: Cube.bz, Cabosanroque | Video: Frau – Recerques Visuals, Cabosanroque | Set construction: Kike Blanco, Cabosanroque | Executive production and distribution: Helena Febrés Fraylich | Recorded participation: Niño de Elche (flamenco singer), Rocío Molina (flamenco dancer), Enric Casasses (poet), Manuel Delgado (anthropologist), Gerard Horta (anthropologist), Ricard Torrents (Verdaguer specialist), Carme Torrents (museologist), Lourdes Porquet (virologist), Xavier Rebodosa (virologist), Helena Pielias and Vicenç Viaplana (video artistes), Laia Torrents, Roger Aixut (Cabosanroque) | Recital of Jacint Verdaguer's verses: Núria Martínez Vernis (poet), Jordina Boix (director of Fundació Verdaguer) | Representation of Father A. F. (exorcist): Joan Solana | Photographs: José Hevia | Acknowledgements: Casa Museu Verdaguer, MUHBA (Museu d'Història de Catalunya), Department of Social Anthropology of Barcelona University, Centre de Cultura Contemporània de Barcelona (CCCB) and Enric Casasses, because without his Dimonis (Verdaguer Edicions, 2014), ours would not exist.
A coproduction: Cabosanroque, Grec 2020 Festival de Barcelona, Temporada Alta 2019, Filature Scène National de Mulhouse and Fundació Lluís Coromina
With the support of: Culture Department of the Generalitat de Catalunya Catalan government, Fundació Verdaguer and Centre de Cultura Contemporània de Barcelona
You might also be interested in
Creation Based on the Word and the Scene
Creation Based on the Word and the Scene