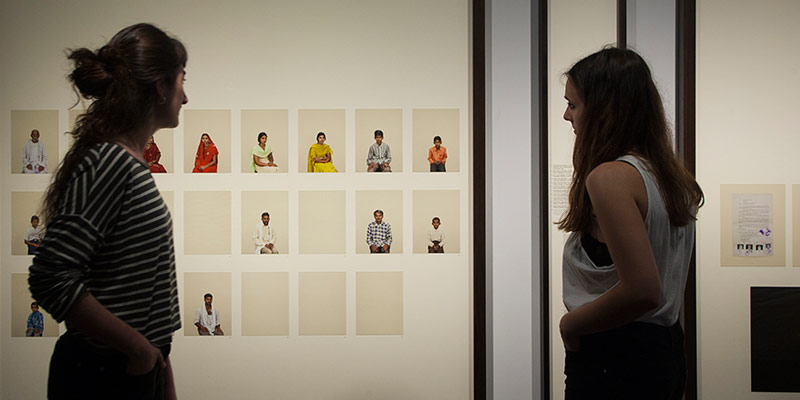 Proper use of the spaces
Entrance to the CCCB's premises is allowed up to 30 minutes before closing time.
Access to some activities (performing arts, cinema, etc.) is closed when the performance or screening begins.
Visitors must keep their entry ticket during their visit to an exhibition or attendance at an activity.
Use of the cloakroom: For conservation reasons, bags measuring greater than 40 cm, rucksacks, motorbike helmets and long umbrellas must be left in the cloakroom lockers.
Photographs and recordings: For conservation reasons, it is not permitted to take photographs or recordings using flashes, tripods or selfie sticks. Some works may be subject to author copyright and cannot be photographed or filmed. If in doubt, please ask the room attendants.
Works of art: Works of art are fragile. Please keep a prudential distance, avoid touching them or pointing at them with sharp objects (pencils, pens, walking sticks, umbrellas).
Mobile telephone use: You are requested to please silence any acoustic signals from your mobile telephone during visits, screenings, concerts or other performances.
Access with animals: Only access with guide dogs is permitted. Other animals must remain in the outdoor spaces.
Food and drink: It is not permitted to take food or drink into the exhibition halls, auditoria, classrooms and archives.
Visits with minors: Children are welcome at the CCCB. Please help us explain to them that there are works that are fragile and cannot be touched. Please prevent them from running in the halls and from shouting, as they may bother other visitors or cause an accident.
Drawing in the halls: You are welcome to draw in the halls, sit on the floor or on a chair or carry a portable seat. You can draw with pencils or pens as long as you maintain a prudential distance from the artworks. To paint with watercolours, inks, oil paints or similar, it is necessary to request a permit in advance.
Environmental conditions: For the conservation of the artworks it is necessary to control the air conditioning in the exhibition halls. You may find the temperature and lighting a little low.
The CCCB is a smoke-free space.
Free Wi-Fi: There is a free Wi-Fi service in the CCCB's Hall and at the Bar-Restaurant Terracccita.