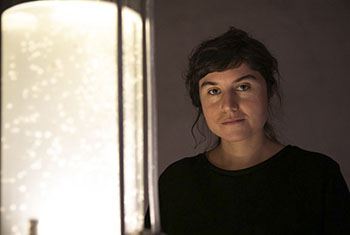 Saša Spačal
Saša Spačal (1978) is a postmedia artist working at the intersection of living systems research and contemporary art, Spačal's focuses in her artistic research on entanglements of the environment-culture continuum and planetary metabolisms. By developing technological interfaces and relations with soil agents, she addresses the posthuman condition, which involves mechanical, digital and organic logic within contemporary biopolitics and necropolitics.
Her work has been exhibited at venues such as the Ars Electronica Festival (Austria), National Art Museum of China, Perm Museum of Contemporary Art (Russia), Prix Cube (France), Transmediale Festival (Germany), Onassis Cultural Center Athens (Greece) and Museum of Contemporary Art Metelkova (Slovenia). Her works have received awards and nominations for the Prix Ars Electronica, Japan Media Art Award, Prix Cube, New Technology Art Award and New Aesthetica Prize.
Spačal is currently developing a series of artworks and storytelling practices entitled MycoMythologies, which explore how fungal teachings could help humans think about the complexities of entangled life in capitalist ruins.
Participates in the exhibition "Science Friction" with the installation Myconnect, 2013, with Mirjan Švagelj, Anil Podgornik and Tadej Droljc. Modelling and implementation of the design: Blaž Šolar. Production by Kersnikova Intstitute / Kapelica Gallery.
Update: 20 September 2021