Event
Tuesday 21 December, 20:00
FILA ZERO: LA MOSQUITERA (AgustÝ Vila, 2010, 95 min)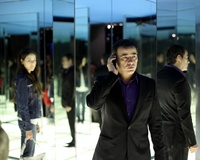 Enlarge image
The film is presented by Núria Vidal (ESCAC) and the filmmaker, Agustí Vila. The screening will be followed by a talk with the audience.
FILA ZERO WITH AGUSTÍ VILA
The second session of the ESCAC's FILA ZERO takes place on Tuesday 21 December at 8 p.m. in the Auditorium of the CCCB in Barcelona.
The director, AGUSTÍ VILA, will be the guest, presenting his third film, LA MOSQUITERA, one of this year's surprises in the Catalan and Spanish film world.
Produced by Eddie Saeta, this caustic black comedy has received numerous accolades, including the Crystal Globe of the Karlovy Vary Festival and the Prize for the Best Actress for Emma Suárez at the Seminci in Valladolid.
La mosquitera ("The Mosquito Net") is the story of a dysfunctional family with a father who sees nothing, a mother who sees too much and a son who lives in a world of his own. Living with them are six dogs (or is it seven?), three cats, a South American cleaner, a grandmother with Alzheimer's and a grandfather who wants to kill himself. And oh yes, let's not forget the sadistic sister and her masochistic little girl!
This is a great chance to talk to the director about how he came to create this story, his influences and anything else you'd like to know.
Participants

Director:

Themes