Event
Friday 10 February, 19:30
SOY CÁMARA. The CCCB's Programme (16)
Now #2 Encuentros en el presente contínuo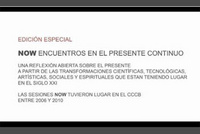 Enlarge image
A new chapter of Soy Cámara, the CCCB TV program entitled "Now # 1 Meetings in the present continuous" will be screened on Friday January 6th by the TVE 2 at 7 p.m.

SOY CÁMARA offers in this program the second part of a special issue as an overview of the NOW sessions. NOW took place at the CCCB from 2006 to 2010 as a platform for open discussion on the present based on the scientific, technological, artistic, social and spiritual changes that are happening in the XXI century. The program includes the views of Paul Toyne, Vandana Shiva, Stephan Harding, John Gray, Noam Chomsky, Gilles Lipovetsky, Jesús Mosterín, Steven Johnson, Alfonso Valencia, David Peat, Victoria Vesna, Frederic Lenoir, Gianni Vattimo and John Maeda.
This program has been directed by Juan Insúa.