Event
Saturday 05 June, 19:00
WAR DON DON by Rebecca Richman Cohen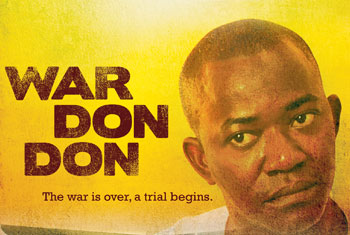 Enlarge image
This session forms part of the 18th Barcelona International Women's Film Festival
War Don Don follows the controversial trial of Issa Sesay, rebel leader of the Revolutionary United Front (RUF) in the Special Court for Sierra Leone, where the crimes committed during the 10 years of civil war (1992-2002) are judged. The documentary has unprecedented access to the various figures to appear in court, with the testimonies of both the public prosecutor and the defence, the victims of the conflict and the accused, including Issa Sesay.
The documentary is the result of more than three years' work by North American director Rebecca Richman Cohen, and sets out to offer an insider's view of the complex moral, political and legal issues that emerge in the attempt to reconstruct war-torn nations and launch an in-depth debate about the future of international criminal justice.
After the screening, the debate:
Justice in transition: the RUF trial in the Special Court for Sierra Leone
With Rebecca Richman Cohen, director of the documentary and expert in international criminal law, and Solomon Moriba, spokesman of the Special Court for Sierra Leone.
Moderator: Óscar Mateos, lecturer at the Universitat Ramon Llull, researcher into African conflicts at the Escola de Cultura de Pau of the UAB (2002-2006) and lecturer at the University of Sierra Leone (2006-2008).
Credits:
War Don Don, Rebecca Richman Cohen, Sierra Leone – USA, 2010, 83', Spanish subtitles
Photography: Nadia Hallgren and William Charles Moss Sound: Scott Guitteau
Editor: Francisco Bello
Music: Max Avery Lichtenstein
Credits
Organizer

With the collaboration of

Drac MÓgic