Event
Friday 04 April, 17:30
The Future of Food
2005, 88', VE. Spanish prèmiere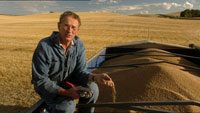 Enlarge image
Directed by Deborah Koons Garcia
The Future of Food presents us with the problem of GM foods, seed patents and industry subsidies to universities and other research groups. The monoculture of GM foods alters the ecosystem, patents ruin independent farmers by favouring large corporations while industry subsidies distort university lab results, letting technological advances be regulated by multinational corporations. Facing this global situation, a new agriculture is beginning to emerge.
Participants

Participants:

Presenter:

Themes

Space at the CCCB

The Auditorium
General information
Space at the CCCB
The Auditorium
Place
Centre de Cultura Contemporània de Barcelona (CCCB)
Montalegre, 5. 08001 Barcelona. Tel: (+34) 933.064.100
http://www.cccb.org/now
Date
From April 3-5, 2008
Space opening schedule
Thursday April 3, open from 5 pm to 9:30 pm
Friday April 4 and Saturday April 5, open from 11 am to 10 pm
Free entrance to all activities
Prior registration for the workshops. Tel: (+34) 933.064.135. E-mail: seducatiu@cccb.org
CCCB reserves the right to modify the schedule for reasons beyond its control.