Event
Sunday 22 October, 12:15
Samuel Beckett – Silence to silence
Seán Ó Mordha, Ireland, 1994, 80', OVCS.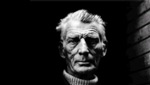 Enlarge image
Produced by RTÉ, with the collaboration and advice of Beckett himself,
this documentary outlines the artistic life of the writer through his
prose, his plays and his poetry, with interventions by Billie Whitelaw,
Jack MacGowran, David Warrilow and Patrick Magee. Filmed in Dublin,
Paris and Roussillon (Vaucluse, France), it is narrated by Tony Doyle.
Participants

Director:

Themes