Event
Tuesday 23 March, 20:00
Fila Zero: Los condenados [The Condemned] by Isaki Lacuesta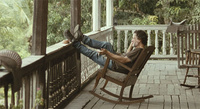 Enlarge image
The film will be presented by Núria Vidal (ESCAC), and its director, Isaki Lacuesta, and screenwriter, Isabel Campo. The screening will be followed by a talk with the audience.
Session fiveFILA ZERO WITH ISAKI LACUESTA
The director, ISAKI LACUESTA, and the screenwriter, ISABEL CAMPO, will be presenting their film LOS CONDENADOS, premiered at the San Sebastian Festival last year.
Isaki Lacuesta has been a well-known figure since his debut with Cravan Vs Cravan in 2002. La leyenda del tiempo (2006) established him as one of the most interesting directors of recent years. Los condenados is his first incursion into the world of fiction, though with a highly personal approach.
Isaki Lacuesta is about to release a documentary about the figure of Ava Gardner in Spain and is editing a film made in Africa with the painter Manel Barceló.

Los condenados is one of the most surprising and controversial films of the last year, which is why we thought it would be interesting to talk to its creators, Isaki Lacuesta and the screenwriter Isabel Campo, about their experience making this film.
Los condenados by Isaki Lacuesta (2009, 104 min.)