Event
This month, Oriol Sánchez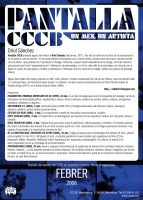 Enlarge image
Screen at the CCCB presents a selection of films by Oriol Sánchez (Barcelona, 1977). These works stand on the limit of what is considered to be traditional representation and narrative; the earliest, in which he works on the photogram as a minimum unit, painting onto film or animating forms, as well as the most recent, based on the appropriation of images.
Parallel to this materialist work on images is his interest in description and abstract: his characters, if they exit, go beyond psychology, and are treated as figures or icons; their gestures, looks and expressions are interwoven with rhythms of images and populate a type of interior landscape.Some of these works have been shown at the IVAC, CGAI, Xcèntric, the International Film Festival of Las Palmas, on Calle 13 television channel and in retrospective exhibitions, such as Barcelona Visual Sound and In Extremis. He received a special mention by the jury at the Román Gubern Film Essay Award (2007) and the Alacant Vídeo Festival (1999).

Films FRAGMENTOS PRIMERA IMPRESIÓN EN S8 (1999), 12 min. This is a travel diary which covers the topography of the landscape, covering nature as well as graphic details and urban architecture: business signs, door numbers, tiles, statues, pictographs, arabesques, emblems, allegories…SKETCHBOOK nº1 (2001), 5 min. Visual curriculum (1998-2001) of images created using various means and techniques: animation, pixilation, painting directly onto film...ESTUDIO EN ROJO (2001), 1 min. This is an experiment carried out using monochromatic and audible writing. COPY SCREAM (2005), 3 min. A scream repeated until its disintegration due to the movement of surfaces: texture, page, printing, sheet and screen. OPUS INCERTUM (2002), 3 min. Fragments of films, publicity signs, educational and science films and earlier works by the artist following the paranoid-critical method, materializing in images and a delirium of interpretation. This is homage to the irrational knowledge of Dalí.DE LA HOSPITALIDAD, DERECHOS DE AUTOR (2006), 15 min. Trilogy consisting of the short films Tres tiempos (6 minutes), ¿Dónde está el espíritu? (4 minutes 30 seconds) and Mi Quijote (5 minutes), which are almost completely composed by scenes from films by Erice, Kiarostami, Welles and Rossellini. It is a reflection on the experience of a film spectator and is, at the same time, a work by an author/spectator, as it is a montage of several other films.PROFANACIONES (2008), 22 min. (work in progress) Deconstruction of scenes from several films by Marey, Kulechov, Kirsanov, Romero, Halperin and others where any narrative elements are dispersed. These are miniature stories, extreme, diffuse and irregular, which form a triptych surrounding fear, mindlessness and annihilation. A visual work created from the musical composition Campanes de llum, by Joan Riera Robusté.