Event
Saturday 3rd: 2.20 and 7.45 p.m Sunday 4th: 6 p.m.
15th February
Tim Webb, United Kingdom, 1995, 7', VO. (16 mm.)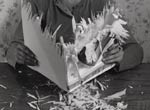 Enlarge image
Adaptation of the homonymous poem by Peter Reading in which, mixing real action and animation, a voiceover relates the events that take place after the sending of a Valentine's card. Unrequited love and the growing violence generated as a reaction to the rejection.