Carles Capdevila
Journalist and director of ARA newspaper
Els Hostalets de Balenyà, 1965 - Barcelona, 2017
Carles Capdevila was a journalist and editor of the newspaper ARA (winner of the National Prize for Communication).
After graduating in Philosophy, he worked as a journalist in New York from 1992 until 1994 and, since then, he worked in the Catalan media. He directed, presented or produced programmes for Catalunya Ràdio, TV3 and Antena 3, notable amongst which are Eduqueu les criatures (winner of the Radio Association Prize), Qui els va parir, Malalts de tele (winner of the Ondas Prize), Set de Notícies and Alguna Pregunta Més (winner of the National Prize for Journalism and the CAC Prize for Best Script).
He also worked for the newspapers Sport, Avui, El Periódico and El 9 Nou. He wrote several books and is a lecturer in Communication at the University of Barcelona. As editor of the newspaper ARA, he published a weekly interview with well-known personalities from the world of thought and ideas. He was also executive director of the TV3 (Catalan Television) programme APM and worked with the TV3 programme Divendres as well as the radio programmes El Matí (Catalunya Ràdio) and Hoy por hoy (Cadena SER).
He won the award Pere Quart in 1999 and the Premi Nacional de Comunicació in 2016.
Contents
Kosmopolis 15. Seven Reasons for Believing in a Great Future for Journalism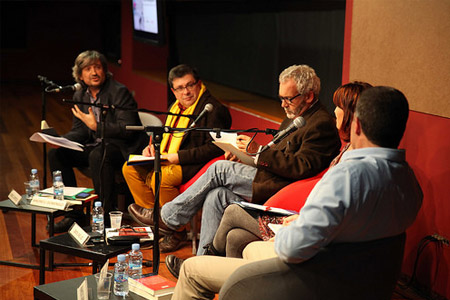 Debate with Andreu Domingo, Oriol Nel·lo, Neus Ballús and Francesc Serés