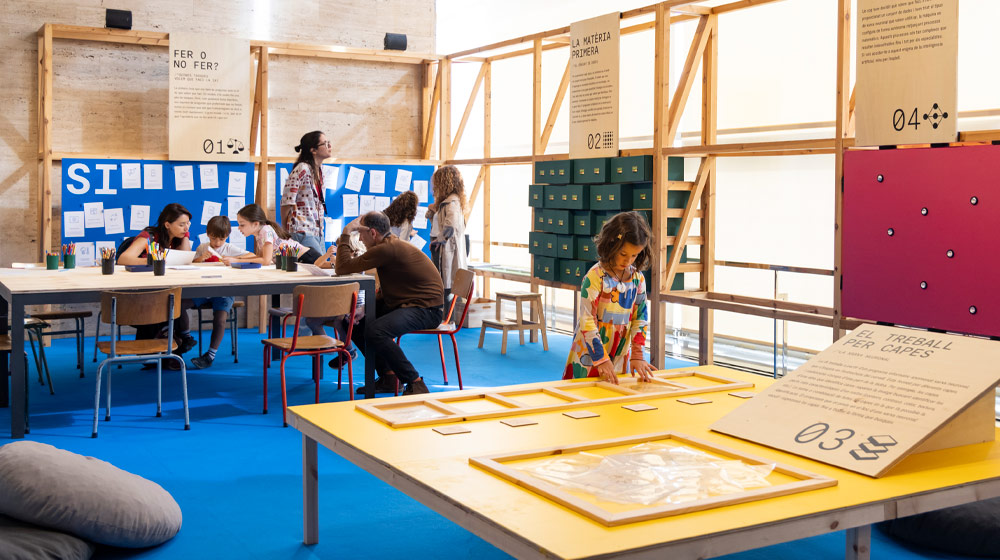 AI: Artificial Intelligence
The Apprentice
A Space to Play, Experiment and Learn about Artificial Intelligence
Education + Family
Free
What happens when we come across AI in an analogue space? "The Apprentice" is an unplugged proposal to explore the construction of AI by means of experimentation and play, devised by Col·lectiu Estampa. A corner designed for all ages, where you can play with AI, just kick back or browse books related to the exhibition.
Artificial intelligence (AI) is a tool that allows many things to be done automatically. The results seem almost magical to us, but getting there takes a lot of effort and decision-making that involve us—people. Next to the exhibition AI: Artificial Intelligence you'll find "The Apprentice", an activity designed by Estampa that, with four games and a puzzle, challenges us to think, with no screens, apps or cables, about how AI learns and who from, in an effort to understand the automatisms of our world a little better:
To do or not to do? AI models can do many tasks. But we need to ask ourselves what we would rather they didn't do, given that what we ask will be done very quickly and on a large scale. Dare to think what you would like to see done with AI, and what not!
Raw material: To automate each task, AI needs to be trained with a very large set of examples. We ask you to collaborate in the construction of a set of images by choosing a word, illustrating it and saving it. Your way of seeing things will influence what the machine ends up learning.
Working by layers: AI is based on a computer program called a neural network, which is inspired by the structure of the brain. It is made up of different layers, and each deals with part of the task. Put yourself in the place of a neural network: choose and overlap the layers until you find the shape you're looking for.
The enigma: Once we've decided what we want it to do, given it a set of data and decided what kind of neural network we want to use, the machine configures itself autonomously using mathematical processes. The result is enigmatic, and it is difficult to know how the decisions are made. If you want to spy on how AI trains, look through the spyhole.
Does it work? Once AI has been trained, it is necessary to evaluate whether it works and to ask ourselves, in each case, whether the results it gives are correct. We suggest you take a photo of yourself with recognition frames. Do you feel identified by the labels available? Does AI work, or is its vision biased?
In this space you'll also find a small library, where you can consult and enjoy a selection of illustrated books and resources for adults and children about artificial intelligence and other intelligences, as well as a notice board with the latest news about AI.
Other activities as part of
AI: Artificial Intelligence