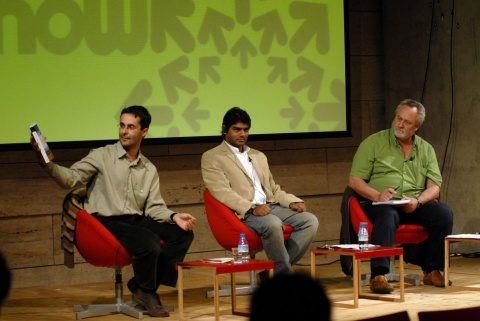 NOW 2008
Stuffed and Starved
The Battle for the World Food System
Debate
This session proposes a big global paradox: for the first time, the number of people who go hungry on this planet has been surpassed by those who have overweight problems. The production necessary for this overfeeding of the developed world has created unsustainable agriculture systems.
In this context, it has become inevitable to question the green revolution as well as to strike up the debate on genetically modified (GM) foods, the role of multinational corporations in this crisis and their control of seed patents.
Miquel Ortega, co-coordinator of the magazine "Ecología Política" (Political Ecology) and collaborator to the campaign "No et mengis el món" (Don't Eat Up The World), will moderate a dialogue between Raj Patel, author of the book "Stuffed and Starved: Markets, Power and the Hidden Battle for the World food System" and Paul Nicholson, representative of Vía Campesina for Europe.
You might also be interested in
Enlightened seminars with Marina Garcés
Alessandro Barbero and José Maria Micó