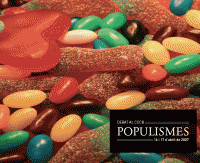 Populisms
Debate
Free
Populism has recently been enjoying a boom both in and beyond Europe. This debate will raise general issues and analyse specific cases of a complex, difficult to define phenomenon that goes with modern democracy and is related to ideologies of all kinds.
Hostile to traditional ideologies, populism feeds off its leader's charisma and a permanent exaltation of the people that relates it as much to xenophobic discourses as, paradoxically, to the most advanced theories of the defence of equality and social justice. Populism is thus associated with a wide variety of political tendencies, ranging from the extreme right to the radical left, from economic liberalism to equalitarianism, from nationalism to anti-globalisation movements. Its ambivalent relationship with democracy and authoritarian excursions make populism a multi-faceted phenomenon that generates both unease and fascination.

The CCCB has brought together a number of experts who will compare specific experiences to offer a common conceptual framework with which to understand populism in today's world. This meeting will take place within the framework of ongoing collaboration with the Institute of Dialogue and Communication and the Albanian Media Institute of Tirana (Albania), through which the CCCB has set out to promote and strengthen cultural exchange in the heart of the new Europe.

Director of the debate: Bashkim Shehu.

Monday 16 April

5 pm Welcome and introduction by:

Bashkim Shehu, writer of Albanian origin.

Josep Ramoneda, director of the CCCB.

5.30 pm Western Europe

"The Populist Phenomenon and its Mutations in Contemporary Europe"
Guy Hermet, Professor at the Institut d'Études Politiques in Paris and author of Les populismes dans le monde (Fayard, 2001).

"Populisms and the Media"
Fermín Bouza, Professor of Sociology at the Complutense University in Madrid.

Chair: Piro Misha, Director of the Institute of Dialogue and Communication, Tirana (Albania).

8 pm Populism vs. Democracy

José María Ridao, diplomat and writer.

in conversation with
Norman Manea, writer, author of On Clowns, the Dictator and the Artist (Tusquets, 2006) and Professor at the Bard College in New York.

Tuesday 17 April

5 pm Central and Western Europe

"Populism in the New Countries of Central and Western Europe"
Pavol Demes, former Minister for Foreign Affairs of the Slovak Republic.

"Why is Central Europe the Capital of Populism?"
Ivan Krastev, President of the Centre for Liberal Strategies, Sofia (Bulgaria).

Chair: Remzi Lani, Director of the Albanian Media Institute, Tirana (Albania).

7.30 pm Americas

"Populism in the United States. Styles and Movements"
Michael Kazin, Professor of History at Georgetown University.

"Is Populism Growing in Latin America?"
Francisco Panizza, Professor of Latin-American Politics at the London School of Economics.

Chair: Francisco Fernández Buey, Professor of Ethics and Political Philosophy at the Pompeu Fabra University.
Presenters: Bashkim Shehu, Josep Ramoneda
Moderators: Piro Misha, Remzi Lani, Francisco Fernández Buey
Participants: Bashkim Shehu, Guy Hermet, Fermín Bouza, José Maria Ridao, Norman Manea, Pavol Demes, Ivan Krastev, Michael Kazin, Francisco Panizza
You might also be interested in
Literature, the Oldest of Continents