GANGS OF THE 80s. Cinema, press and the street
Opening concert exhibition "Gangs of the 80s. Cinema, Press and Street"
By Macarras Old School
Scene + Music
To mark the inauguration of Gangs of the 80s. Cinema, press and street, last 25th May a concert was held by MACARRAS OLD SCHOOL.
Street rumba is the music associated with the phenomenon of delinquency in the eighties and its translation to the big screen. The referents of this musical genre are Los Chichos, Los Chunguitos, Bordón 4 and Las Grecas. The music is the thread leading to the present day. The musical and thematic legacy of this "other scene" of the eighties has been picked up by many young groups that both pay tribute and work with the same musical themes and atmospheres today, in their neighbourhood, in the street, in the same territories where the genre germinated over 20 years ago. The concert, headed by José El Pantanito, organizer of events of the Neocalorrismo phenomenon and director of Rumba Tunning production company, will feature various representatives of the young street rumba movement, covering classics from the quinqui repertoire such as Maldita Droga (Tony el Gitano), La cachimba (Las Grecas) and Soy un perro callejero (Los Chichos).
The songs covered in this concert constitute a quinqui hit parade.

Vocals: Kike & Sito Jaleíto (Jaleo Real); Davisón (Wirakocha); Dani Txarnego (La família Rústika); Ivaniwi Ortega (Los Impagaos) and José el Pantanito (Pantanito) / Drums: Ramón Aragall (Pantanito) / Percussion: Juan Sánchez (Pantanito) / Electric guitar: Xarim Aresté (Pantanito) / Flamenco guitar: Pablo Marín (Jaleo Real) / Bass: Tito Bonacera (Jaleo Real) and Luis Sánchez (Pantanito) / Keyboards and piano: Paquito de la Iguana (Manduka) / Trumpet: Leandre López / Sax + flute: David Jacome (LaRumbé) / Backing, jaleo and palmas: Esperança Cortés and Mati Pando / Artistic direction: José A. Bejarano / Musical direction: Tito Bonacera / Coordination: Rumba Tunning / Enterprises / Artistic production: María Vives and Juan Blanco / Documentation: Toni Cuadras
You might also be interested in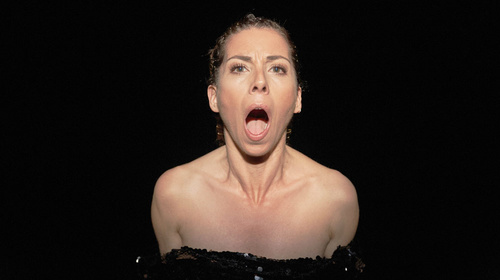 Battle of AI-generated images and talk by Sebastian Schmieg