Open call. Bivac Festival 2023
Form part of a group that programmes a festival of young people's thinking
Education + Festivals
What would a festival of thinking devised, curated and run by young people be like? We're looking for a group of 10 people aged between 18 and 25, with a variety of interests and training, to meet weekly and imagine a programme of thinking that incorporates their ways of doing things, their references and their concerns.
The training workshop to design and programme the festival lasts five months, from February to June 2023. In addition to the support of the CCCB and La Sullivan, the group will be visited by philosophers, artists and curators who'll share reflections and learning processes. On this collaborative basis, we'll shape the second Bivac festival.
Participant selection process
If you'd like to form part of this creation and curating workshop, send the following material to lasullivan@lasullivan.org by 30 January 2023:
Your name, date of birth, telephone and email address
A letter of introduction and motivation for forming part of the project
An idea for an activity that could be part of the festival, clearly setting out the format, theme, guests, venue, duration and target audience, as well as justification.
Please send all the material in one file, with your name in the title of the document.
In the event of being selected for an interview, let us know if there is any time you would be unable to attend an interview on the afternoons proposed: 7, 8 and 9 February, between 16:00 and 19:00 (include it in the document you send us).
Presentation of an application means undertaking the commitment to attend 80% of the sessions.
A team made up of representants of the CCCB and La Sullivan will assess the applications. On 3 February, the results of the first phase will be communicated personally by email, and pre-selected candidates will be invited to a personal interview on the afternoon of 7, 8 or 9 February.
The result of the final selection will be communicated to participants by email on 14 February.
Dates and times of the training workshop
21 and 28 February; 7, 14, 21 and 28 March; 11, 18 and 25 April; 2, 9, 16, 23 and 30 May; and 13 June
The sessions will take place at the CCCB, on Tuesdays, from 18:00 to 20:00.
Bivac 2022: year one
Bivac Festival 2022 took place at the CCCB on 13 October 2022. This festival of young people's thinking and creation was the product of the first year of the curating workshop. It brought together some of the most original and critical young voices in literature, thinking, music, dance and performance.
You might also be interested in
Science and creation for secondary schools with the Center for Brain and Cognition (UPF) and Escola JOSO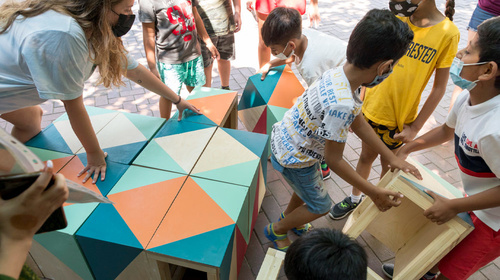 A community project with children and young people from the Raval
Education and culture in the Raval neighbourhood